Furniture Technologies

SCM devised a made-to-measure engineering project with an angular sizing cell and a square-edging line that complement one another, for the Mobilificio SANGIACOMO, that has been a key player in made in Italy furnishing and design for more than fifty years. The partnership continues and new ideas are already in the making, including an integrated logistics plan to make the production flow an increasingly more connected, automated system as part of a genuine "Smart Factory 4.0".
The furniture of the future will be no different from that of the past.
The emotion, warmth and comfort that a kitchen, living area or bedroom can convey within a house, our house, does not change.
What does change is everything around this piece of furniture: the hardware technology changes. It is enhanced with technological functions for greater comfort and multimedia; the way buyers choose a product changes, because they are increasingly looking for a product that is custom-designed to suit their needs, and purchase and delivery times are also becoming faster and increasingly more complex for those who do not mass produce furniture, but batches that vary considerably in colour, shape, size, finishing and design.
SANGIACOMO has more than half a century of history in the business, operating at the heart of the Italian North Eastern region, and is confirmation that these challenges can be overcome in order to compete as a leader on the international markets. Since 1968, the Piovesana family at the helm of a business organisation with 400 direct employees and a consolidated outsourcing network in the area of Alto Livenza of more than a thousand indirect associates has been navigating the route of technological innovation.
Quality, design culture and customization
This furniture factory that produces complete furnishing solutions for the home environment and on contract, has a clear idea of what the key concepts are. A design and production course that carries on day after day with a clear vision of the future at the modern plant, covering more than 50 thousand square metres, in Pasiano di Pordenone. "Our production is split into kitchens (with the MESON'S KITCHEN brand), living areas, bedrooms and cupboards, the latter being a particularly important part of the market for us, not only because of the vast choice of hinged doors, sliding doors, flush doors and wardrobes, but also because of the constant research into the aesthetic and functional quality of the products and careful selection of materials.
Quality that focuses on comfort of use over time, that implies, for example, the easy transportation of a product from one room to another without undermining its stability, explains Loris Piovesana, Chief Innovation Officer of the SANGIACOMO Group. The magnificent showroom where we are received gives you an immediate idea of the considerable range of products and attention to detail and design of the various rooms, from kitchens to bedrooms and living rooms.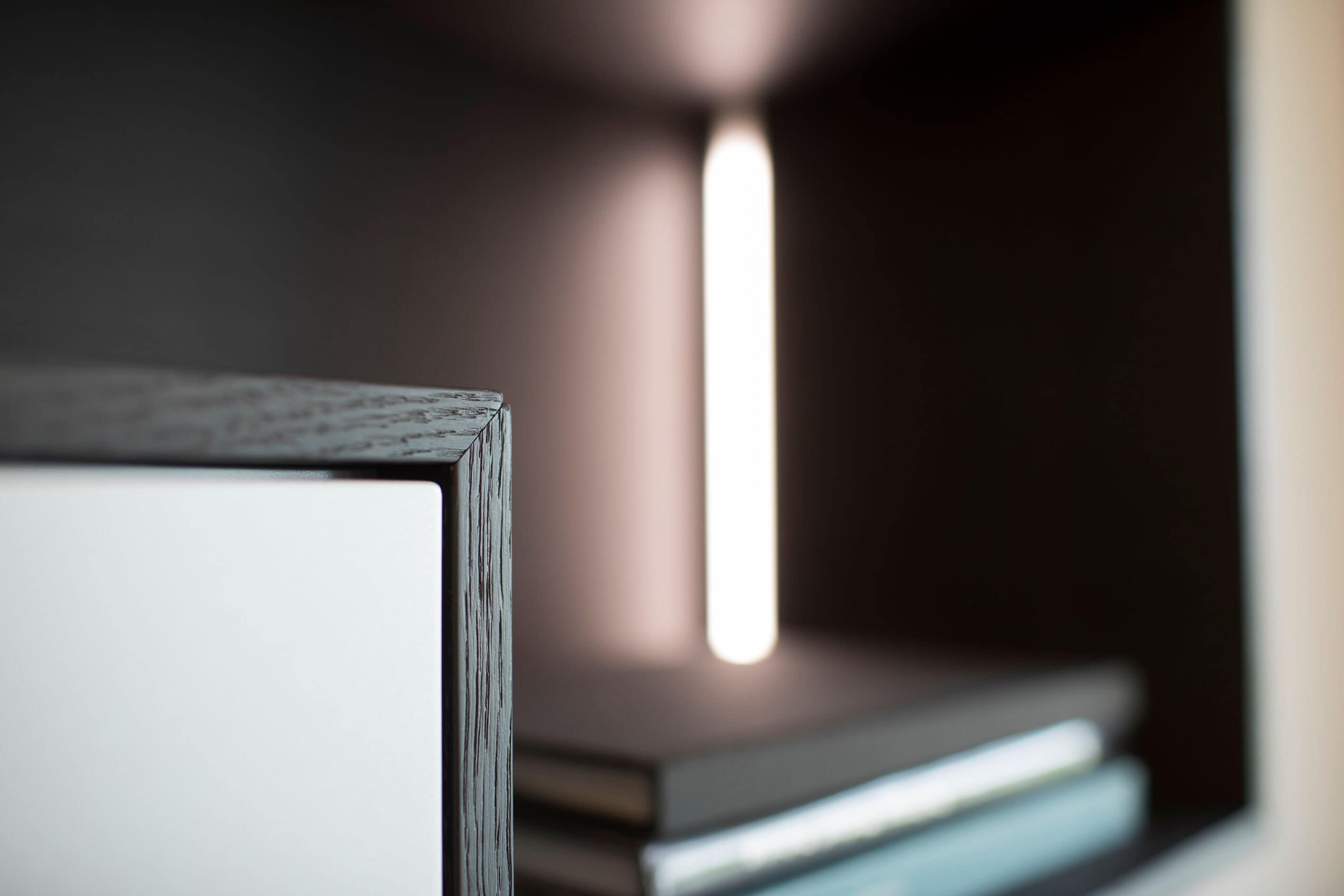 The meticulous research into the quality of the product's appearance and practicality, starting with the careful selection of materials is essential in satisfying the ever more complex demands made by the market - Piovesana points out-. The other requirement is guaranteeing the customer the integration of various products in a range that can offer a complete, integrated system of furniture that can be customised to meet the needs of each individual customer with an eye to budget, without compromising on the quality of standards that are always guaranteed.
Courage and innovation
In light of these requirements, SANGIACOMO has made considerable changes to its processes over the years, arranging part of its production into increasingly smaller batches and investing in high technology to further simplify and control its logistics.
Its collaboration with SCM along this path of continued and intense innovation helped create an engineering project that can meet three key objectives: increasing production efficiency even for flexible "batch 1" productions, further improve product quality and encourage an interconnected, integrated state-of-the-art production system, that guarantees a fast, uninterrupted flow. All this achieved with two complementary automation plants: a sizing cell, with a "gabbiani a3" angular panel saw fitted with a "mahros stacker" unloading system with an output capacity of up to 2000 "batch 1" pieces per shift and individually labelled; a square-edging line with 3,500 feeds per shift with a "mahros brush" automatic loading and unloading system and a "stefani sb" squaring and edge-banding machine.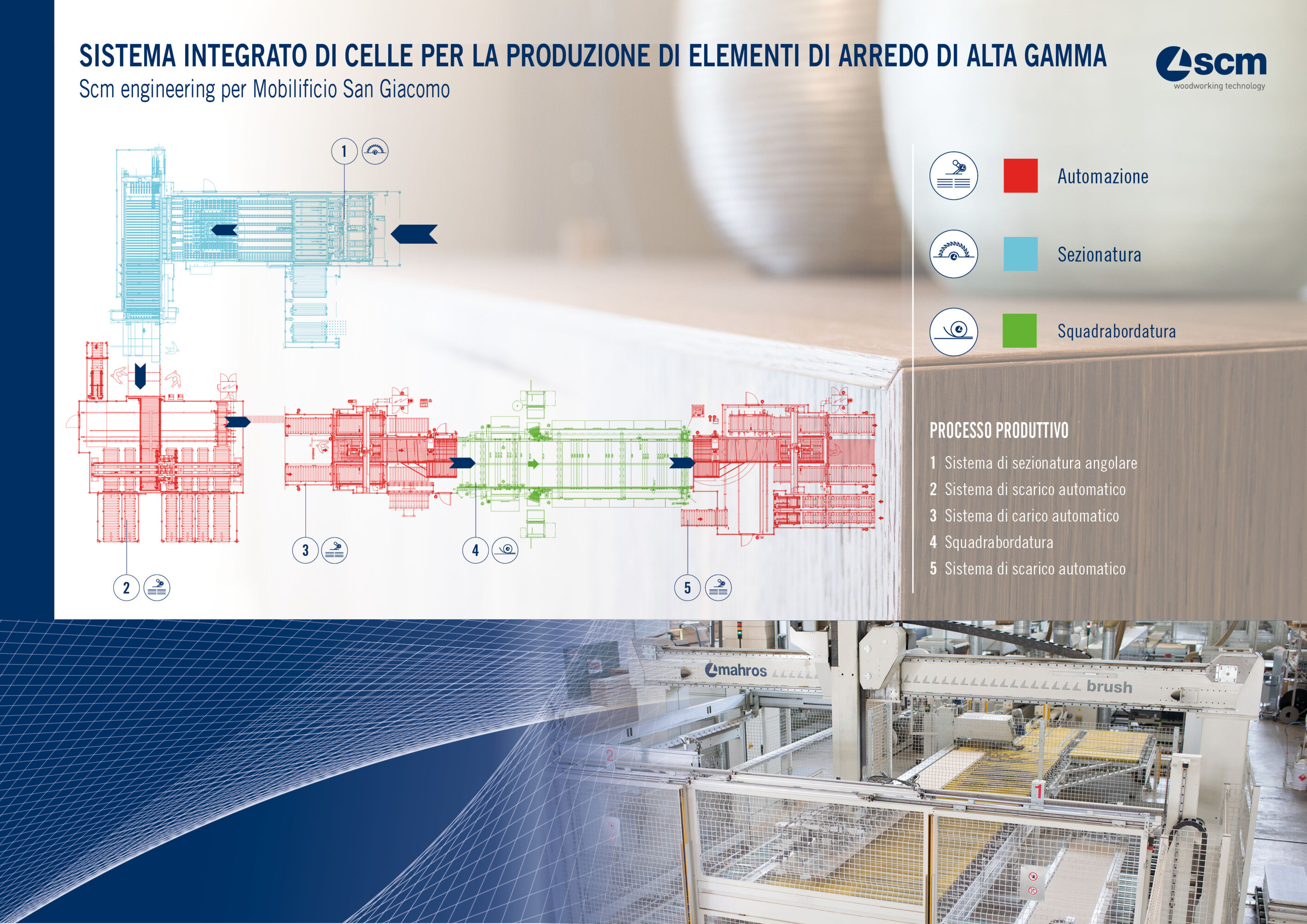 The difference that having up to three different logic cuts can make
The cell offers all the advantages of a "gabbiani a3" angular panel saw, like the FlexCut device that means complex cutting diagrams can be achieved in a short space of time. But it is the high level of automation it offers that makes it stand out from the crowd. A large amount of material can pile up at the entrance on a roller with pusher system which, will gradually move the panels for the first stage of labelling. Printing and application of the bar code label is done automatically and while the machine is running: while the material is waiting to be loaded into the machine, it is labelled and the same pusher transfers it to a work table at the end of printing.
A longitudinal cutting station is flanked by a highly flexible transversal cutting station that can achieve up to three different measurements in one step compared to the two normally achieved with this kind of system.
At the exit, the "mahros" automatic unloading and stacking system has six stations. All the heaviest material, like the larger batches, is transferred towards the "stacker" bridge while a manual sorting system deals with the stacks of "batch 1" panels. Unloading and sorting is non-stop thanks to a supervisor who sends all the information needed to stack up even panels that differ from one another, into homogeneous stacks for the subsequent machining in the squaring-edge-banding machine.
Loris Piovesana comments: "Flexibility was fundamental to us and the characteristic of the FlexCut means we can work both "MTS (Made to Stock") and "MTO"("Made to Order"). We are also using the cell to deal with recovery pieces. There are also other aspects that we greatly appreciate such as the preparation of stacks, the FlexCut cut with mixed stacks and all the logistics that this cell can deal with".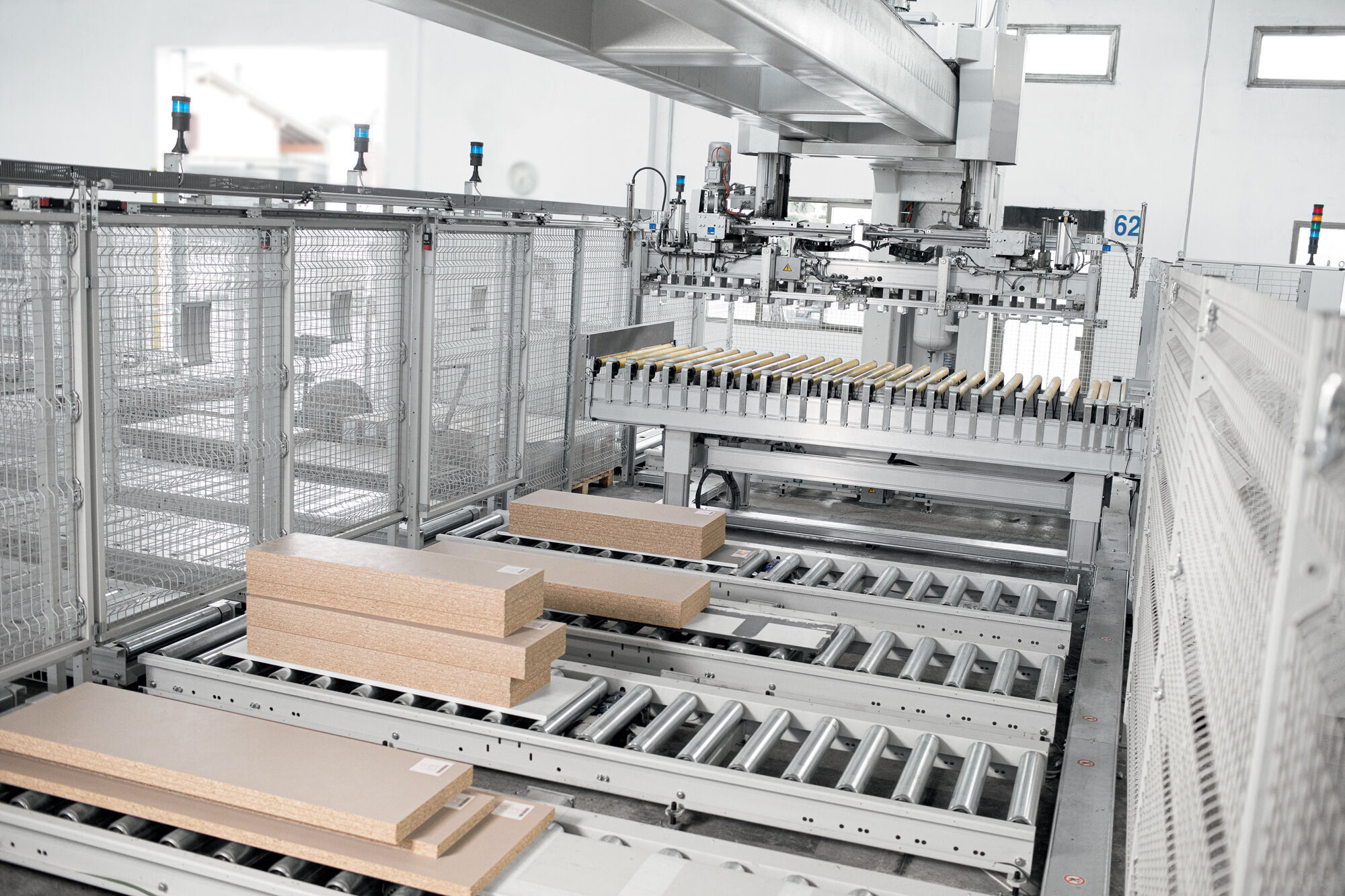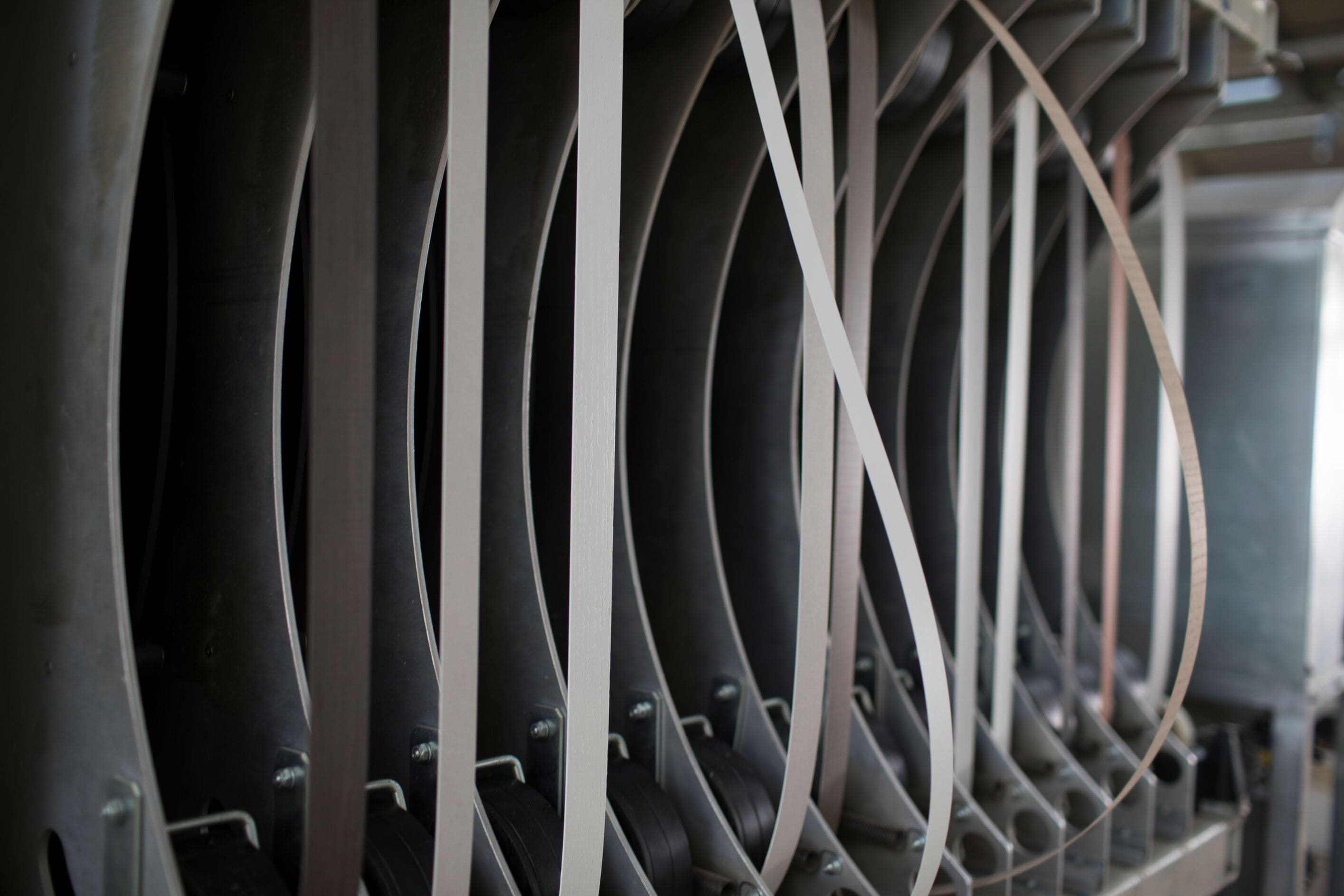 "Mass customization" with no more edge-banding restrictions
At the centre of this line is the "stefani sb" two-sided squaring-edge-banding machine, synonymous with outstanding reliability and efficiency, with an extremely fast upright opening system (up to 10 metres a minute), a coil holder magazine with 24 stations, the possibility of continuous, flexible working with two different types or two different colours of glue, a double rounding unit, with interpolated axes to machine a wide range of materials, including wood, rapidly and with excellent quality, and the Multiedge system for instant tool set-up.
The logistics are optimised at the entrance thanks to a "mahros brush" dual station system for automatic loading that is highly flexible as well as fast and with supervisor. At the exit, another "mahros brush" automatic unloading system, it too with dual station, offers excellent flexibility.
Loading and unloading can, however, also be done manually if a specific or time-constrained requirement or emergency arises.
Piovesana comments: "This line allowed us to increase productivity and achieve better results even in terms of value for money". Indeed, the flow carries on with a continuous cycle without having to set-up to reset the system with the specifications of the panel being machined (size, shape, colour, edge thickness, etc.). The parameters are changed while the machine is running and the flow can, therefore, continue with its elevated rate of 3,500 feeds per shift, a part of which is "batch 1".
The other advantage that SANGIACOMO greatly appreciates is the possibility of achieving a better finish, even with greater flexibility, when producing semi-manufactured goods. "State-of-the-art melamine, for example - continues Piovesana - is no longer a price-fighter, but a melamine that is now structured with finishings, design and, unlike before, has its own specific market segment that is expanding. This is why we use this squaring-edge-banding machine to produce not only semi-manufactured goods that require further machining cycles but genuine finished products".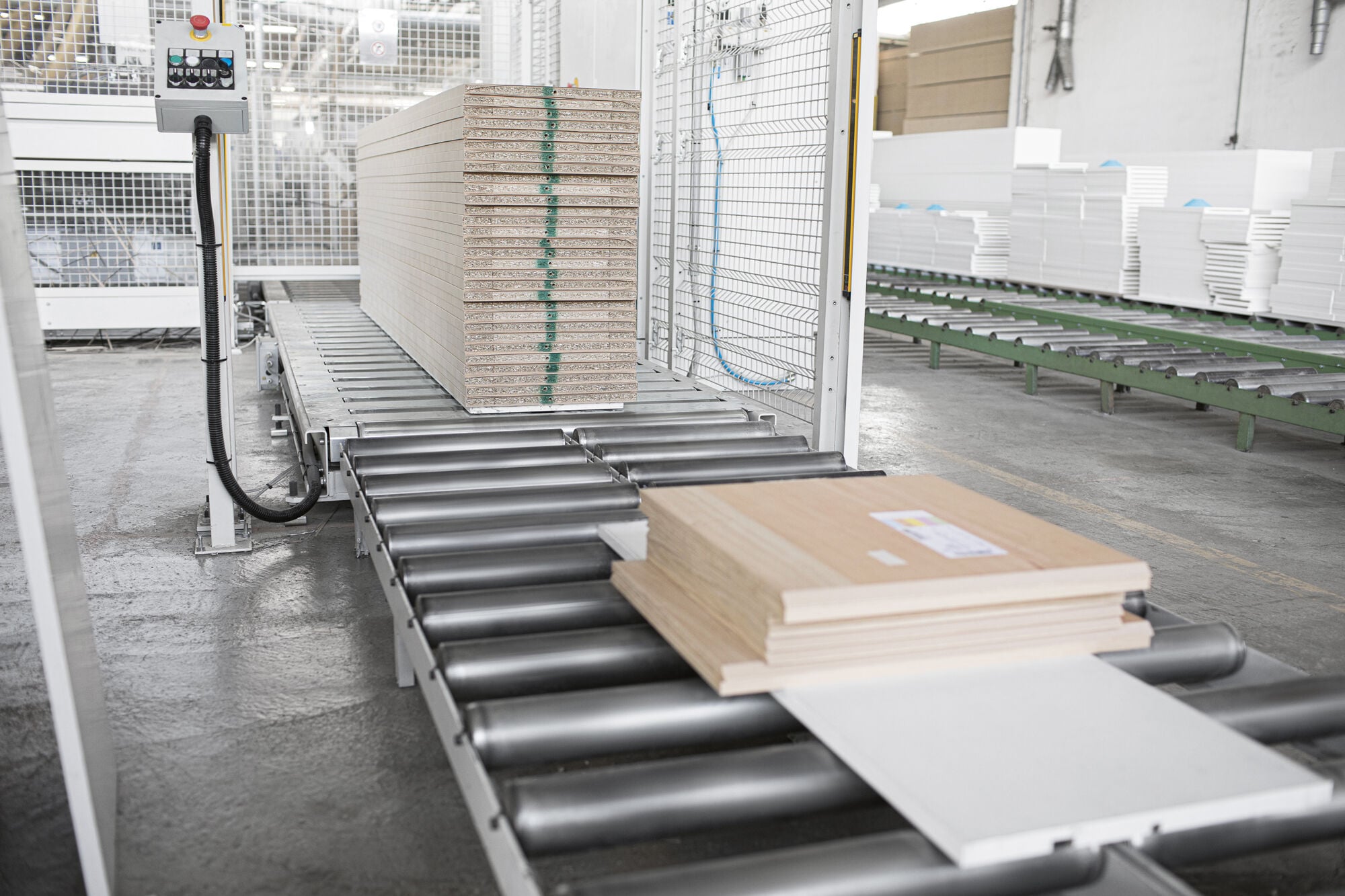 ---

"Right from the outset, SCM has listened to our needs - Piovesana concludes - it knew how to achieve exactly what we were looking for, and at a price in line with our expectations. Furthermore, our company works according to seasonality, on two or three shifts, therefore, we constantly need a reference figure who can provide us with an answer instantly, even via web, if need be".

Everything that has been said up to now is only a part of a much larger project, which SANGIACOMO is working on together with SCM: a plan to develop state-of-the-art integrated logistics within the plant. We shall give nothing away at the moment but we are sure that the courage, creativity and passion of this magnificent business organisation will continue to be an incentive for future SCM engineering projects.

---
Mobilificio San Giacomo