A dynamic plant with the best
most modern and efficient processes.
The Foundry can produce a variety of casting dimension up to 2,500 x 2,500 x 1,200 mm with weights from 150 up to 4,500 kg and is particularly suitable for the production of small, medium sized castings, prototypes and single pieces.
Internally, it produces almost all its cores with weights from a few kilos up to 2 tons. This is to ensure complete control of the casting production process with a high technical content and extremely complex geometries.
High-tech plants

No-Bake moulding plant
With the phenolic resin process equipped with 1 30ton/h mixer, production is achieved with 95% regenerated sand.
Painting line, core assembly and fully mechanised mould drying with hourly production of 10 brackets/hour for standard brackets.
Two equipped areas, one for the production of large castings and one for the production of details with complex core assemblies.
The plant is constantly the subject of updates, changes and customising dictated in part by customer demands.
In 2012, the post pouring line was fully mechanized with the elimination of all manual work. In particular, there is an automatic shake out machine served by a Clansman manipulator with maximum load of 4000Kg and it's connected to the shot blasting line by another Clansman manipulator with maximum load of 3000Kg.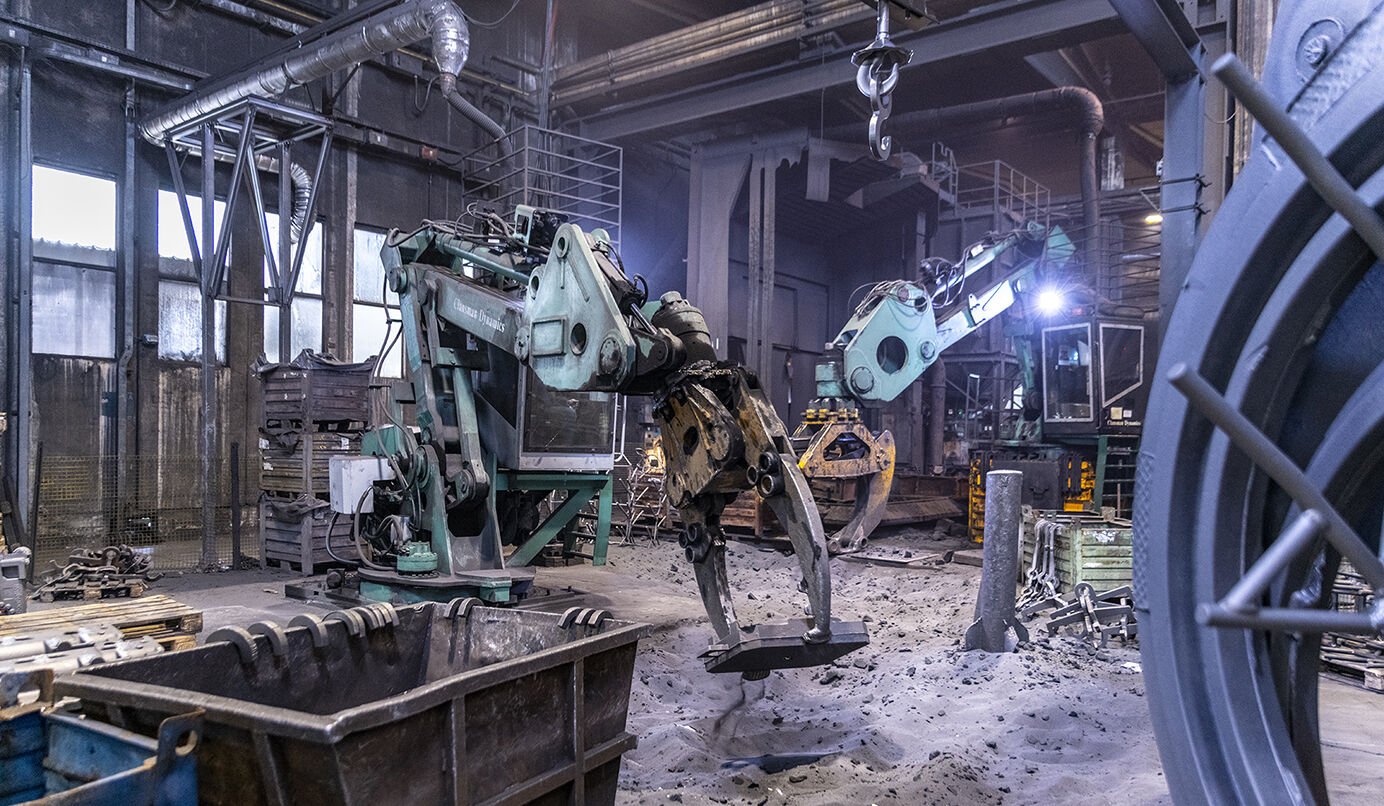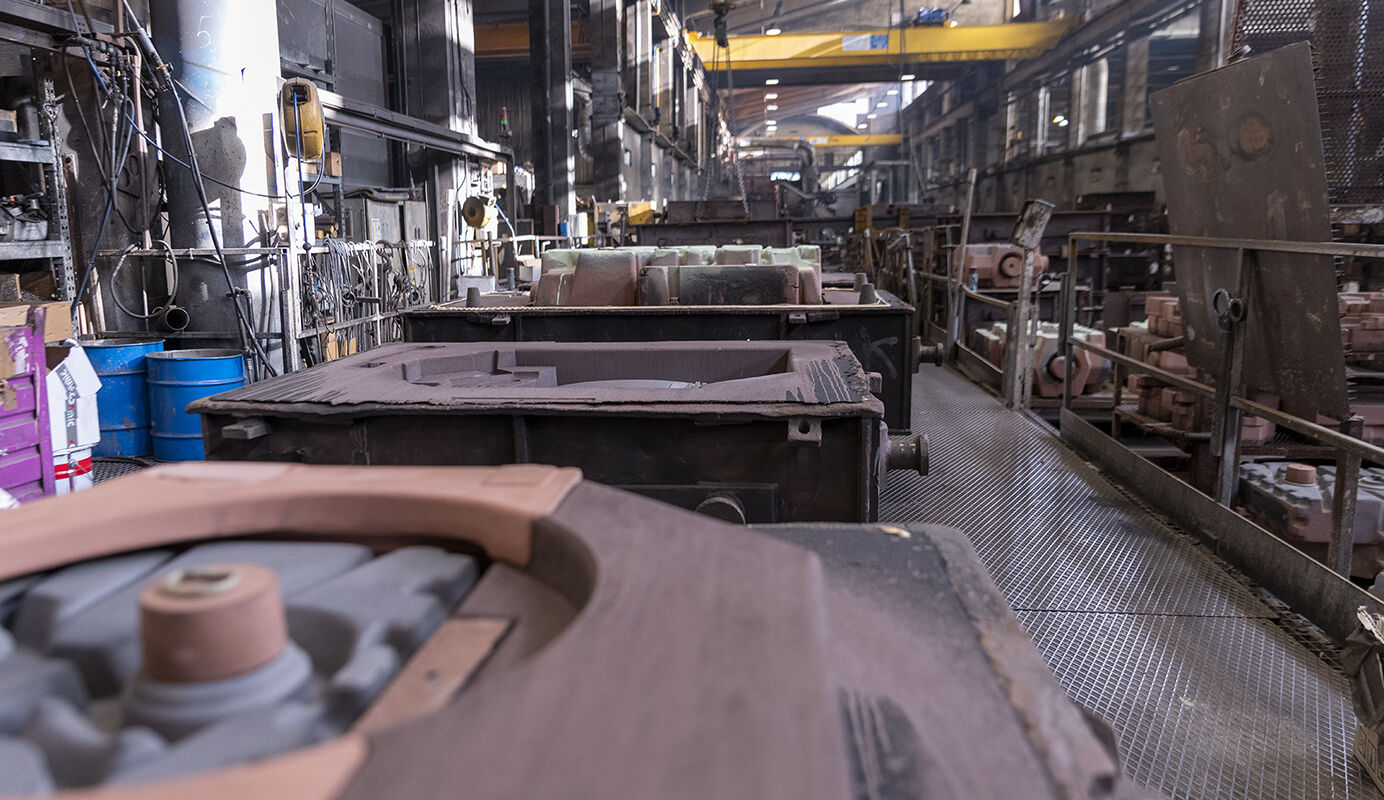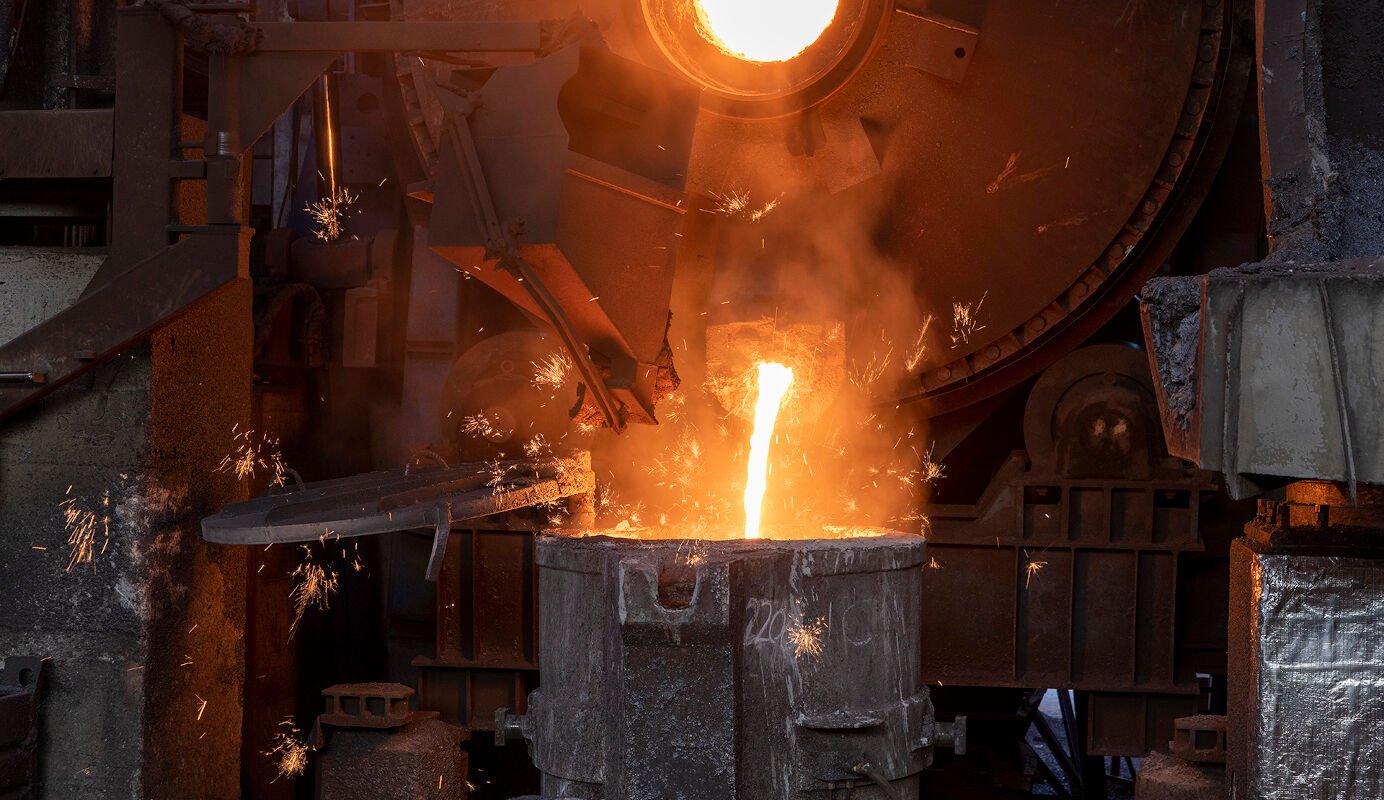 Fusion plant
Between 2004 and 2008, the plant was completely renovated together with the relative metallurgical process with the introduction of 2 oxy methane rotary furnaces with capacity of 18 tons each and the introduction of a modern cored wire treatment for the production of the nodular iron.
The current process allows for extremely flexible production of both grey cast iron and ductile iron. In particular, it allows for the production of highly resistant cast irons at low temperatures.
The current metallurgical process is highly efficient from an energy and environmental point of view, with low emissions that contain no NOx, SOx, CO or dioxins and produces a reduced amount of dust, CO2 and waste.
The core production plant consists of
2 mixers for the production of cores in manual moulding with phenolic resin process weighing from 200 to 2,000 kg with the use of 100% regenerated sand
2 H40 machines (Hansberg) with Ashland process;
An automatic H25 and a manual H12 with Ashland process.
3 paint tanks and an assembly area.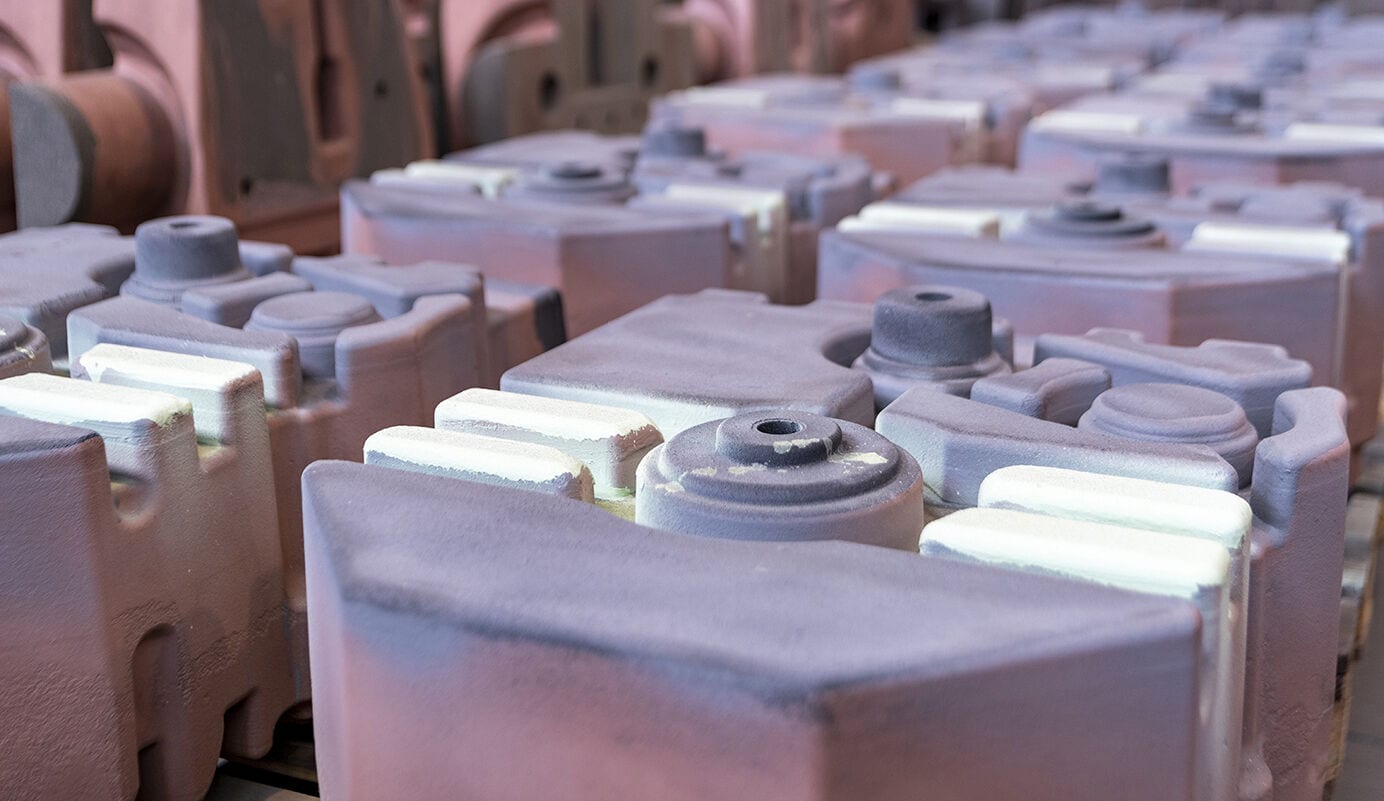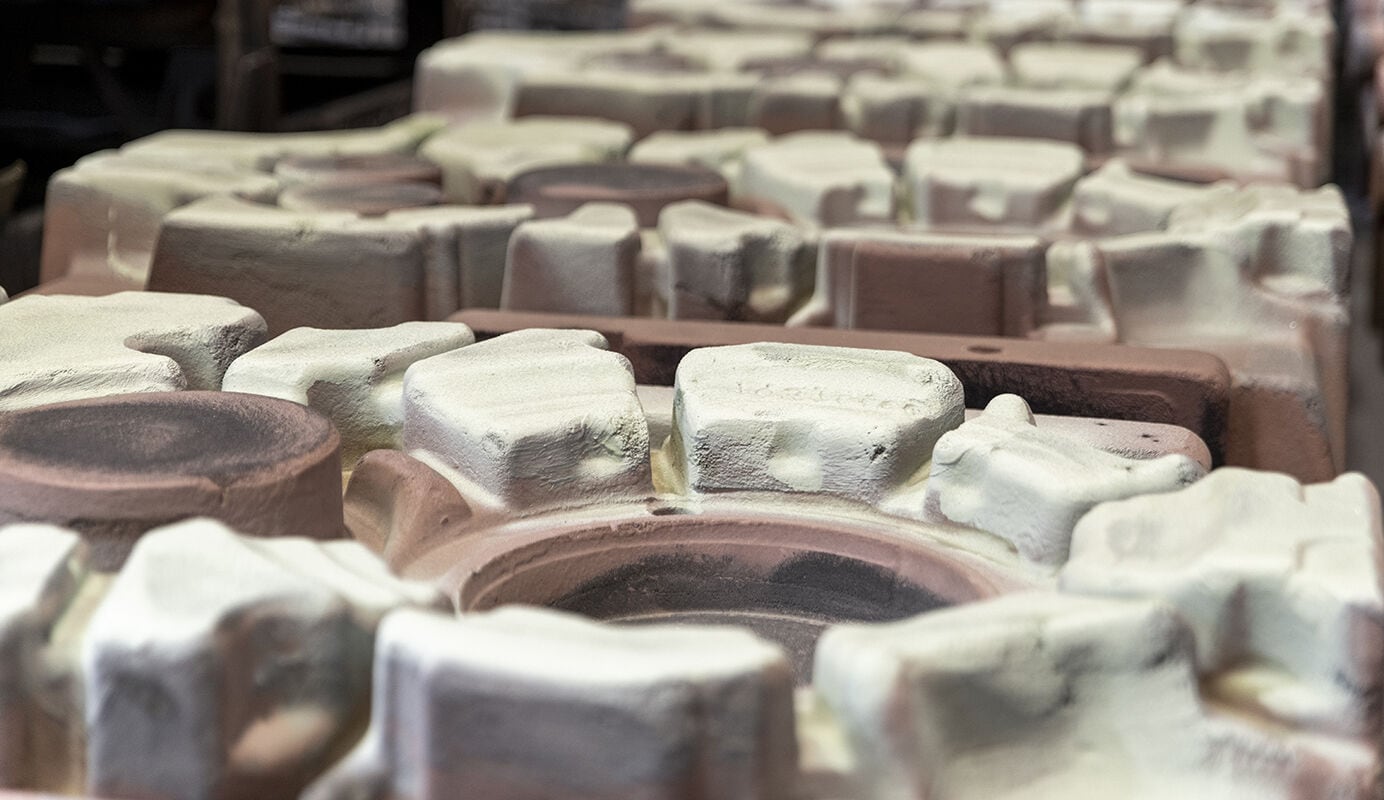 The production of cores covers 95% in weight of the foundry's overall requirements and this guarantees full control of the high tech casting production process featuring a strong presence of cores with complex geometries. There are two heat treatment ovens for stress relieve and ferritization treatments which complete the metallurgical process:
1 methane oven with a 8,000 x 1,500 x 1,500 mm chamber
1 electric oven with a 3,000 x 1,500 x 1,000 mm chamber