Flexstore: Storage & Retrieval System
8 Nov 2016
The new revolution in stock and retrieval systems from SCM Group has arrived.
The new revolutionary range of SCM Flexstore stock and retrieval systems will change the way you see your whole production environment. Premium European design with total flexibility to suit the Australian market.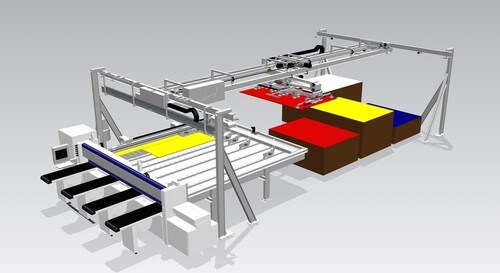 How Flexstore Works
Flexstore is an automatic storage system used to optimise the handling of different panels designed for medium-large industries. It can be integrated in production lines for nesting and/or sizing cells, with a significant increase in productivity and considerable reduction of costs.
The system manages homogeneous and mixed stacks, i.e. made of different dimensions and colours, and raw panels and/or panels with low thickness up to 3mm depending on the material to process.
The Flexstore Inventory Management System Explained
How does the SCM Group Flexstore work? What are the basic operations, systems and advantages an inventory management system will give your business? This video includes demonstrations of:
Stack preparation
Single work station operation,
Work piece labelling,
Rest (or offcut) management
Stack preparation for an external machine
Simple layputs ad configuration
Supercharged Production
Take your manufacturing capacity to the next level, the latest generation Flexstore Inventory Management Systems integrate both nesting and beam saw technology. The end result is extreme flexibility. The intelligent storage system feed both a Morbidelli nesting cell with labelling and a Sigma sizing beam saw.
The watchstore management software reports on inventory levels, manages machine feeding and gives you full access to reports and usage.
Batch 1 Production
High volume requirements, but batch sizes of 1? No problem. Teaming your Flexstore with a batch 1 edgebander and boring system gives you auto functions all the way through the manufacturing cycle. CNC controled setup gives you accuracy and flexibility.
With Flexstore, you'll experience:
Easy tracking of any panel inside the storage system
Increase in productivity
Reduction of storage management costs
Maximum care of your panels, with reduced opportunity for scratching and marking
A safer work environment
Want to know more about the Flexstore Storage and Retrieval System? Download the Flexstore Inventory Management System brochure, found below the image gallery.
Contact SCM Group Australia for more information.