Technologies for houses and construction elements


From staircases to the production of complete buildings in cross-laminated timber (CLT). For over twenty years, FHS Holzbau has put its trust in SCM to optimise its processes and achieve exclusive machining quality. Today, with two "area" CNC machining centres, it is ready to overcome even the greatest challenges.
FHS Holzbau GmbH is a company founded in 2017 with a view to providing perfectly processed CLT elements. As well as the typical FHS Treppen GmbH production that, for over 20 years, has been producing wooden, steel, stainless steel and glass staircases exclusively for artisans, the company has also decided to supply fully finished buildings in CLT. FHS therefore covers the sectors of cross-laminated timber and steel construction, the production of stainless steel and aluminum staircases and balconies with a central plant in Budweis in the Czech Republic.


Around 140 employees work in an industrial area of over 15,000 m2. FHS covers all the process stages to guarantee a high-quality finish and on-time delivery. It starts in the temperature-controlled hard wood warehouse where the material for 1,000 staircases is readily available.
The plant produces top-quality solid wood panels in more than 20 different wood species. Since October 2021, the company has also been cutting and drying its own timber elements.
The production of cross-laminated timber construction involves around 20 people who produce elements up to 12,650 (13,000 for ceilings) x 3,300 x 300 mm on two presses in a temperature-controlled room.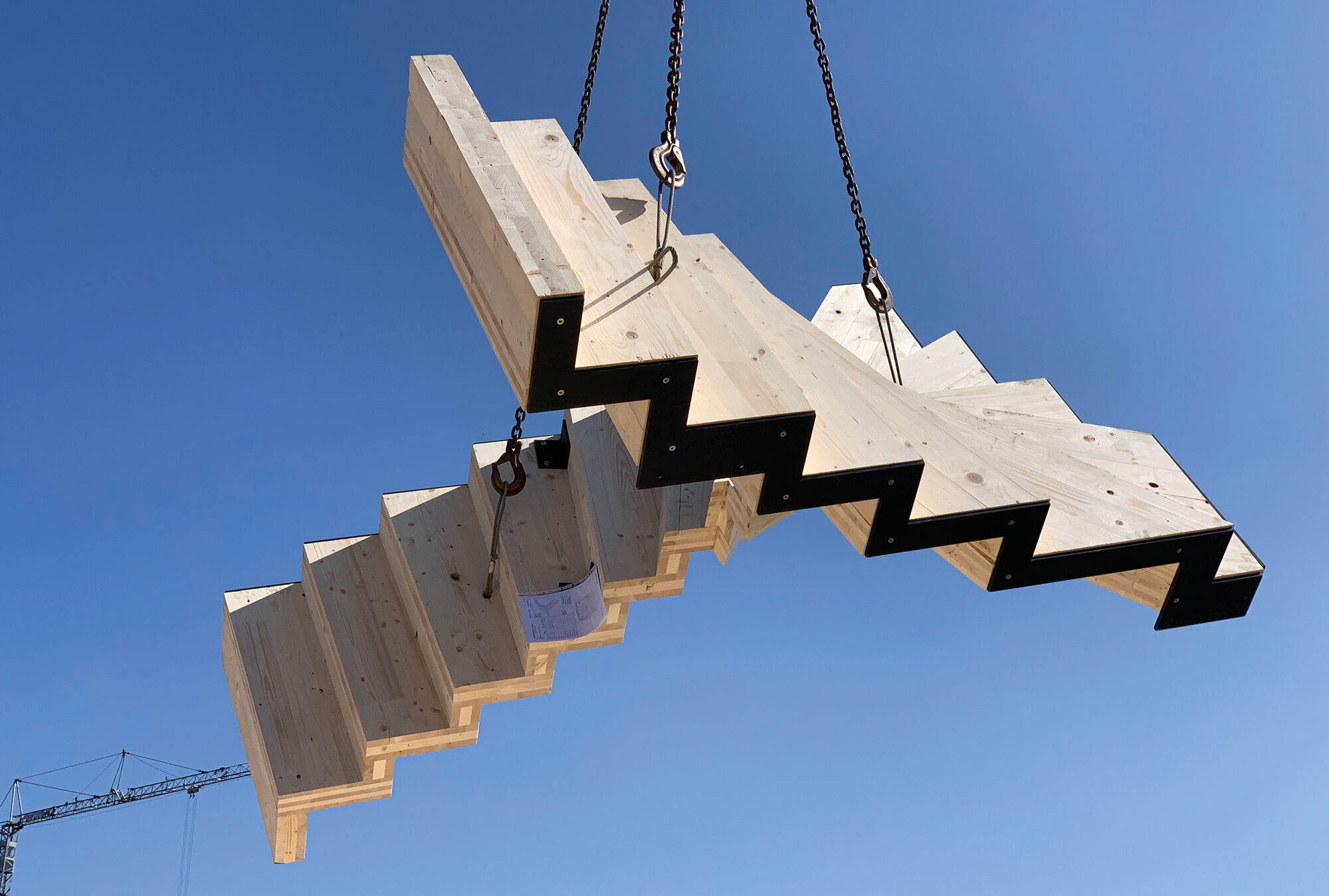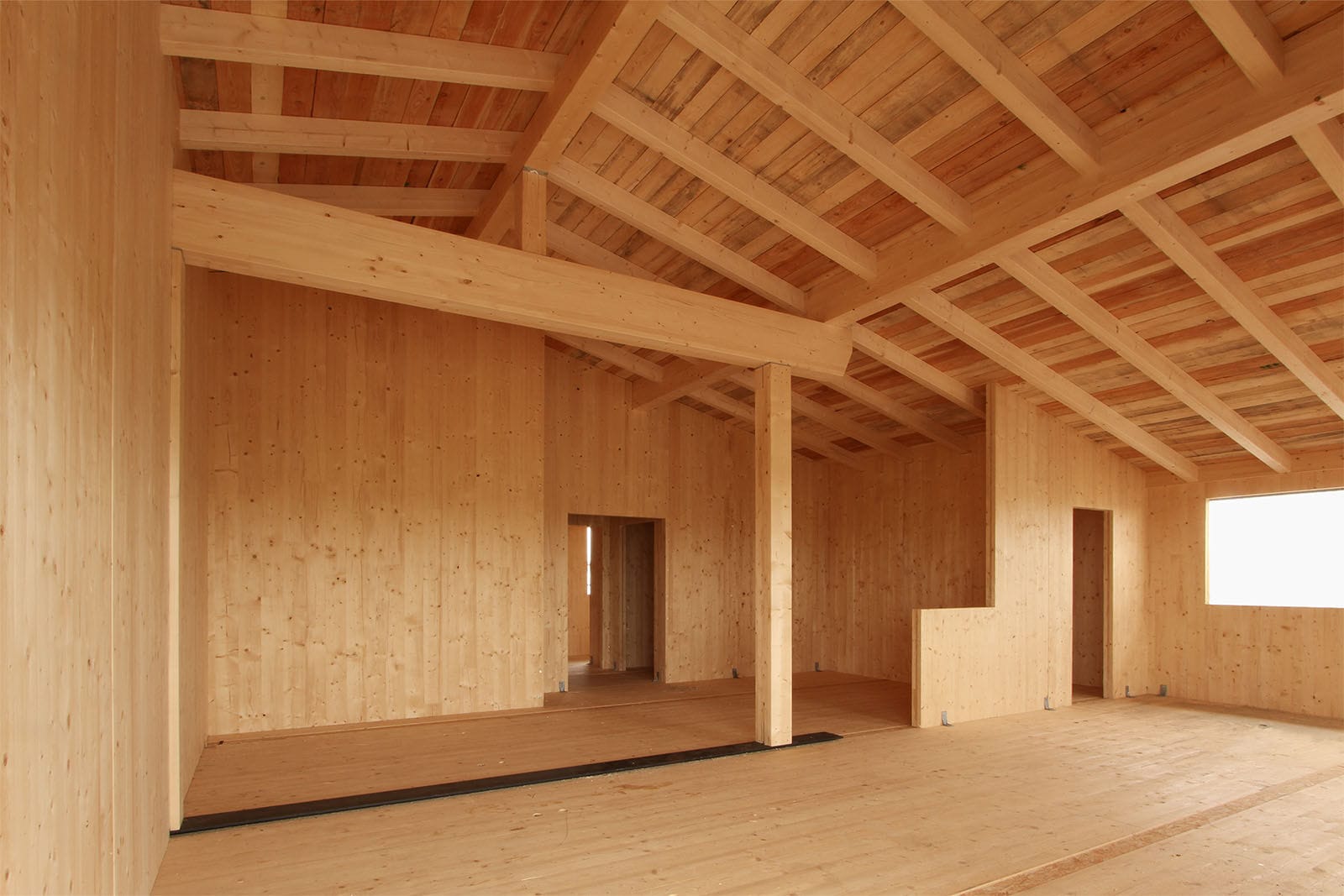 A forward-thinking vision in CLT construction
In the field of timber construction, the main market is in central Europe, with particular focus on Germany, Austria and Switzerland, while the staircases are exported around the world.
FHS Holzbau primarily produces residential buildings and offices, from detached houses to four-storey residential complexes, as well as offices, kindergartens and schools.
The decision to provide complete buildings in CLT came about by taking into consideration different objectives.
As the main new entry, the decision was taken to produce elements in different kinds of wood (spruce wood, larch, stone pine, oak, ash, maple and walnut) with a surface free of cracks thanks to a special upper covering layer, a choice that won FHS Holzbau a certification at the 2019 BAU Innovation Awards.
A priority for FHS Holzbau is the perfect machining quality of elements, that allows the carpenter to assemble them with maximum ease and therefore save a considerable amount of time. This is why stops and grooves are executed on all the walls joints and, in combination with the Exclusiv surfaces, all operations are without splintering. As with the construction of staircases, almost any kind of operation can be achieved: free shape machining as well as sharp-edged corners and round shapes (for example corners for round houses).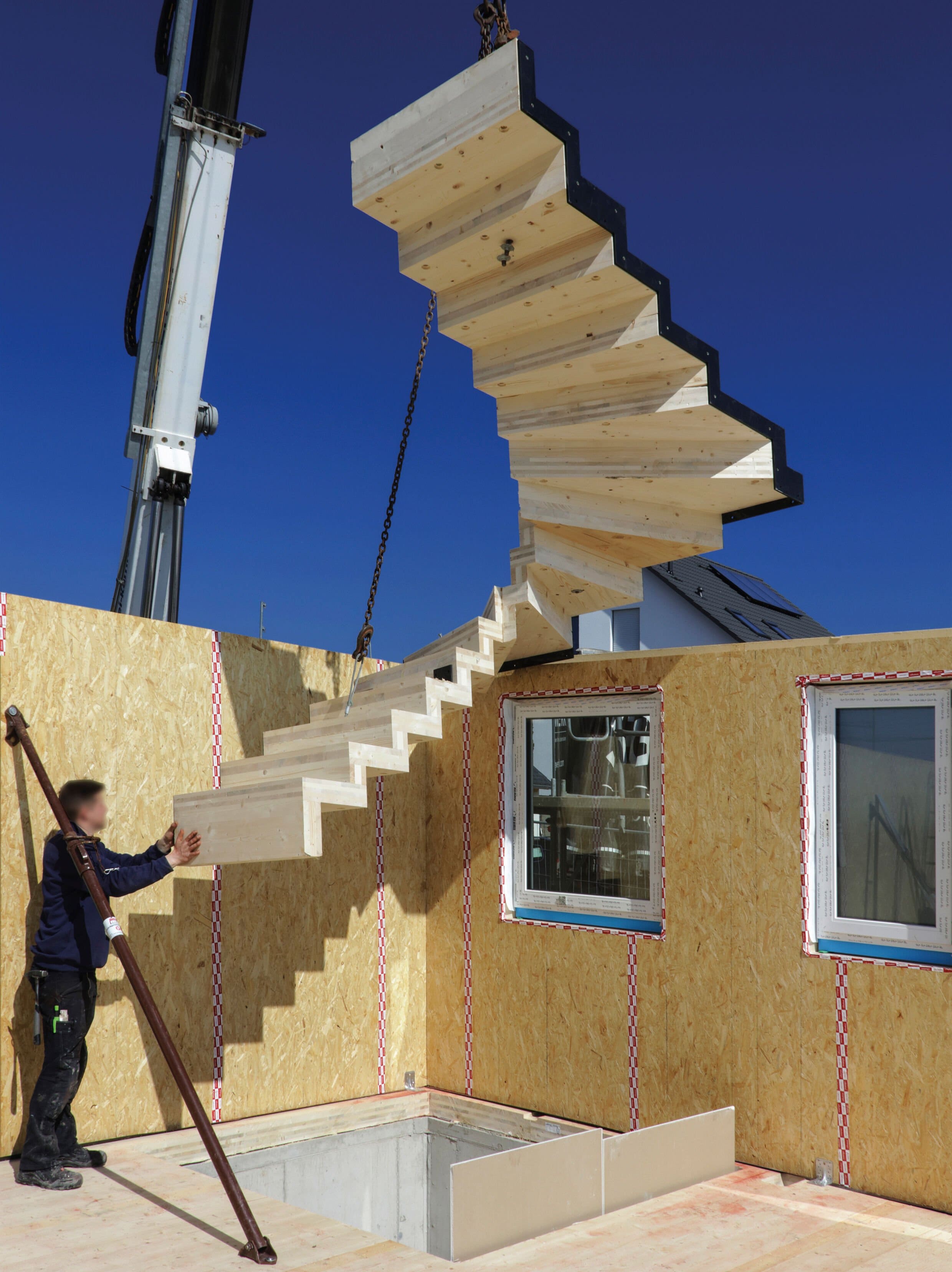 Another of FHS Holzbau's strong point in timber construction is the CLT staircase in two versions: as a folding staircase with steel side fastening and as a work staircase with solid panel steps.
The prefabricated cross-laminated timber staircase can be used immediately as a work staircase and can then be re-clad with a wood or stone covering.
Assembly time is under an hour and the plan of the staircase is designed by FHS Treppen experts to create a staircase that can be easily climbed after cladding.

Two "area" CNC machining centres from SCM to overcome any challenge
Given that the machining of elements and panels plays a fundamental role in timber construction, FHS Holzbau chose SCM to be its technological partner and has used its machinery to produce staircases for 20 years, confirming their full satisfaction both in terms of technological quality of the solutions and technical support.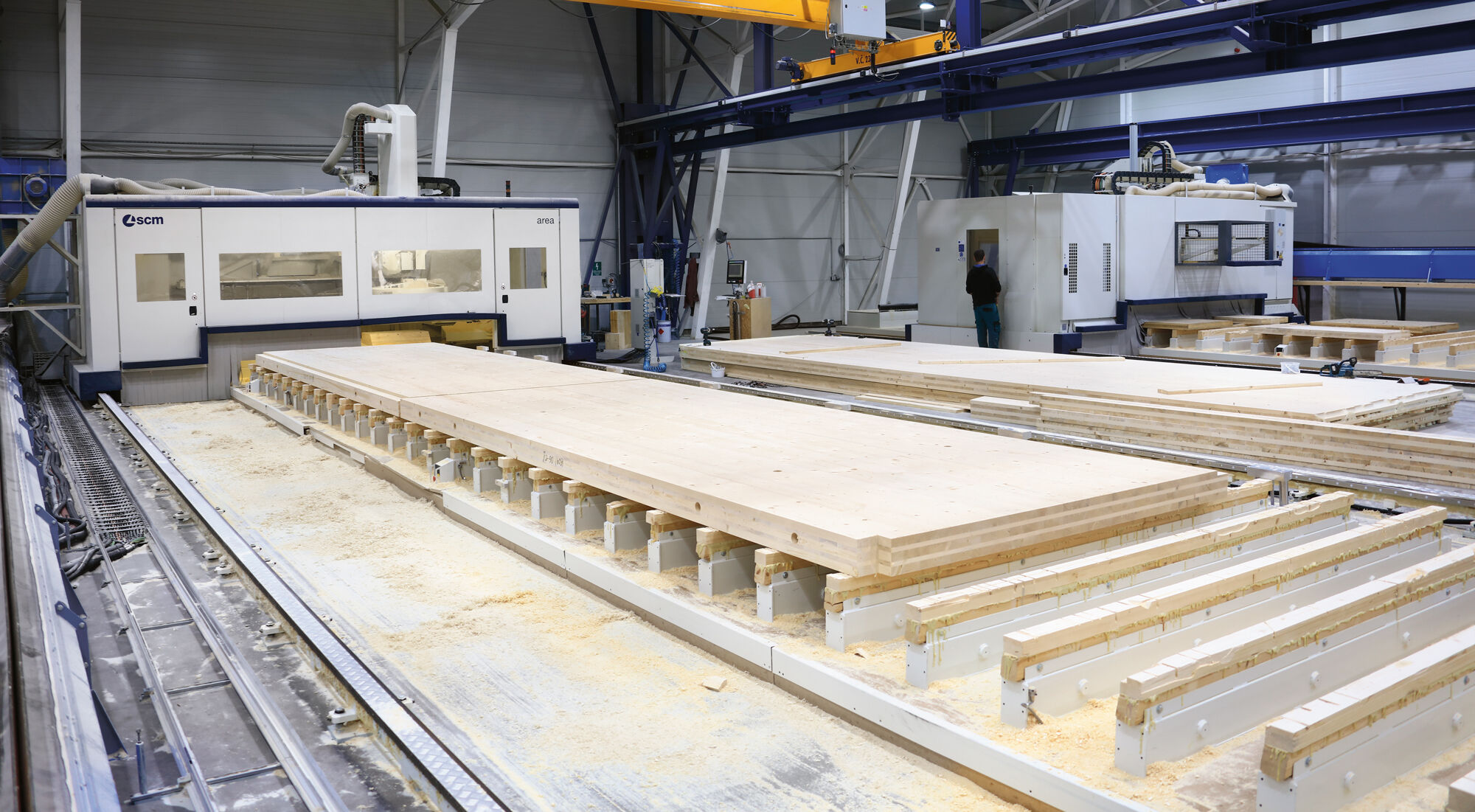 Nowadays, at the FHS Holzbau plant, there are two "area" CNC machining centres in operation. These are solutions that can be used to meet any machining requirement including, for example, round windows with funnel machining, sharp edge corners on sloping beams and corners for round houses. The "area" machines are ideal for processing solid wood with a considerable removal of material.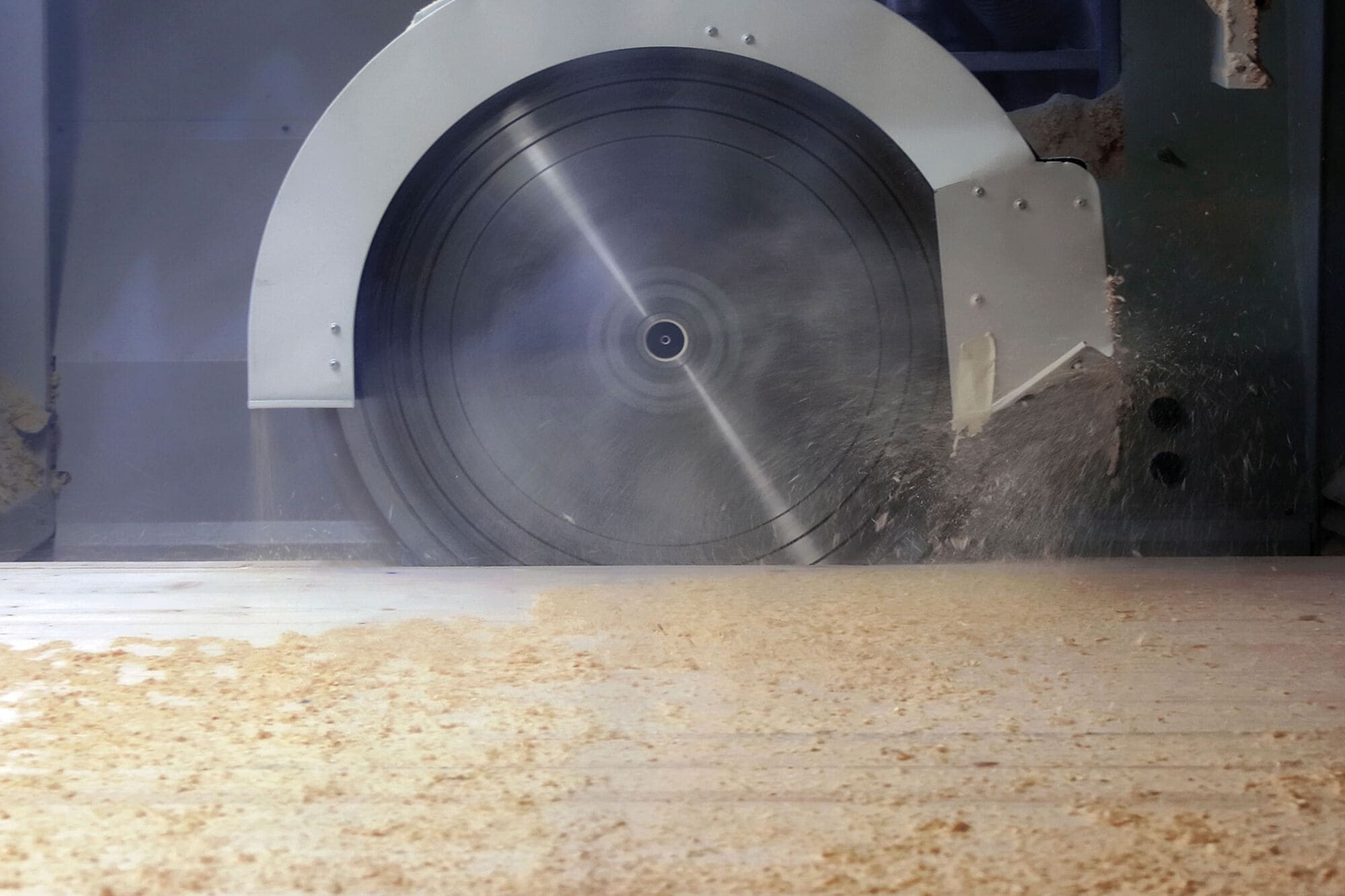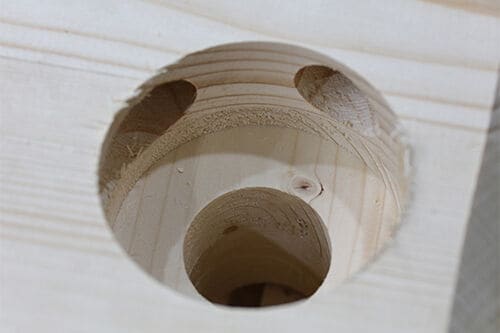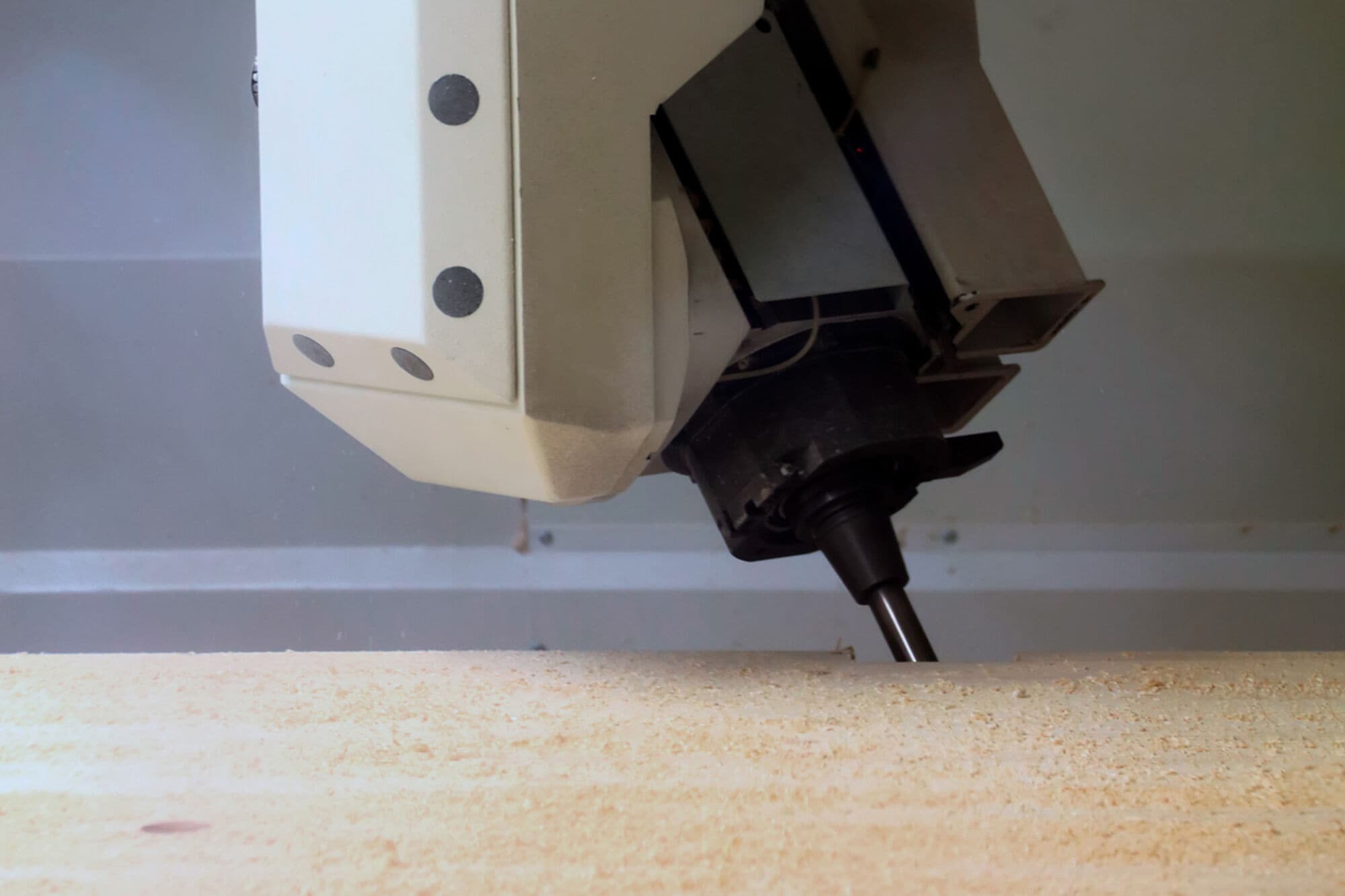 "We mill everything that can be milled on 5 axes - says the owner of FHS Holzbau Max Frisch - We can't wait to receive complex machining requests to make full use of this technology".
FHS Holzbau is convinced that the level of pre-fabrication and machining precision will continue to grow, especially over the coming years.

The advantages of a long-standing partnership
As the company confirms, SCM offers well-designed machines and with solid, rigid structures, a good service and excellent availability of spare parts. For FHS Holzbau, the two "area" machines are key assets in processing CLT panels. Thanks to the 5-axis operating unit it is possible to cut even 300 mm thick elements in one single operation.

"To date, we have never received a request that we were unable to meet using the two "area" CNC machining centres", says the FHS-owner, "We will continue to place our trust in SCM for the production of staircases and timber construction".


FHS Holzbau