Grand Opening Technology Center SCM
28-30.09.2023
Rimini, Italy
Come and join us in Rimini from 28 to 30 September to discover the new SCM Technology Center, the Digital Home of Woodworking Innovation. We will welcome you in a 4000 square metres space, designed to offer the widest range of technologies and services dedicated to integrated, connected, flexible, more sustainable and optimised processes for all machining requirements.
Don't miss the Grand Opening to explore with the SCM team the latest of a solid Group, which continues to grow and innovate to be your trusted technological partner.
Among the main novelties, there are some applied to the CNC machining centers, which will be the subject of a dedicated training event: Cargo, an innovative automatic system for loading and unloading doors and panels, and the new CAD-CAM programming software, Maestro lab.
Cargo will be shown with morbidelli m200 pods & rails machining center: it is a fully automated cell that requires no operator supervision, and it is unique in the market for its ability to continuously load and unload pieces in masked time while the machine performs drilling and routing operations. This exclusive solution allows for maximum efficiency by avoiding manual work phases and their associated costs and unproductive time, in addition to an unprecedented ease of use: both the machining center and Cargo are directly managed with Maestro active HMI interface.
Maestro lab is state-of-the-art CAD/CAM programming software for both office and machine use. Intuitive and dynamic, it allows you to transform ideas into finished products in a simple way, thanks to intelligent and technologically advanced programming functions and over 150 pre-integrated apps. It represents a seamlessly transition from the office to the factory, all in a pleasant and fast user experience.

---

The event will be an opportunity to discover what it means today to have a connected machine and how data are processed within the Control Room, a physical and virtual space capable of providing new support and advisory services to ensure operational continuity. The data collected by the connected machines, thanks to the Maestro connect IoT platform, are transformed into insights, thus enabling proactive and predictive services with the help of the most advanced digital technologies and the constant support of the SCM Service team.
In addition to this, you will discover a rich integrated offer of software to support you at every stage of the production process. Here are some of the new features.

Software for cnc machining centres
Maestro pro view: simulator for machining panels and solid wood.
Maestro 3D and 3Drill: to import 3D models and automatically identify each type of hole respectively on machining centres and drilling machines.
Smart cut: for Maestro nesting: advanced cutting algorithm for locking small pieces during the nesting process.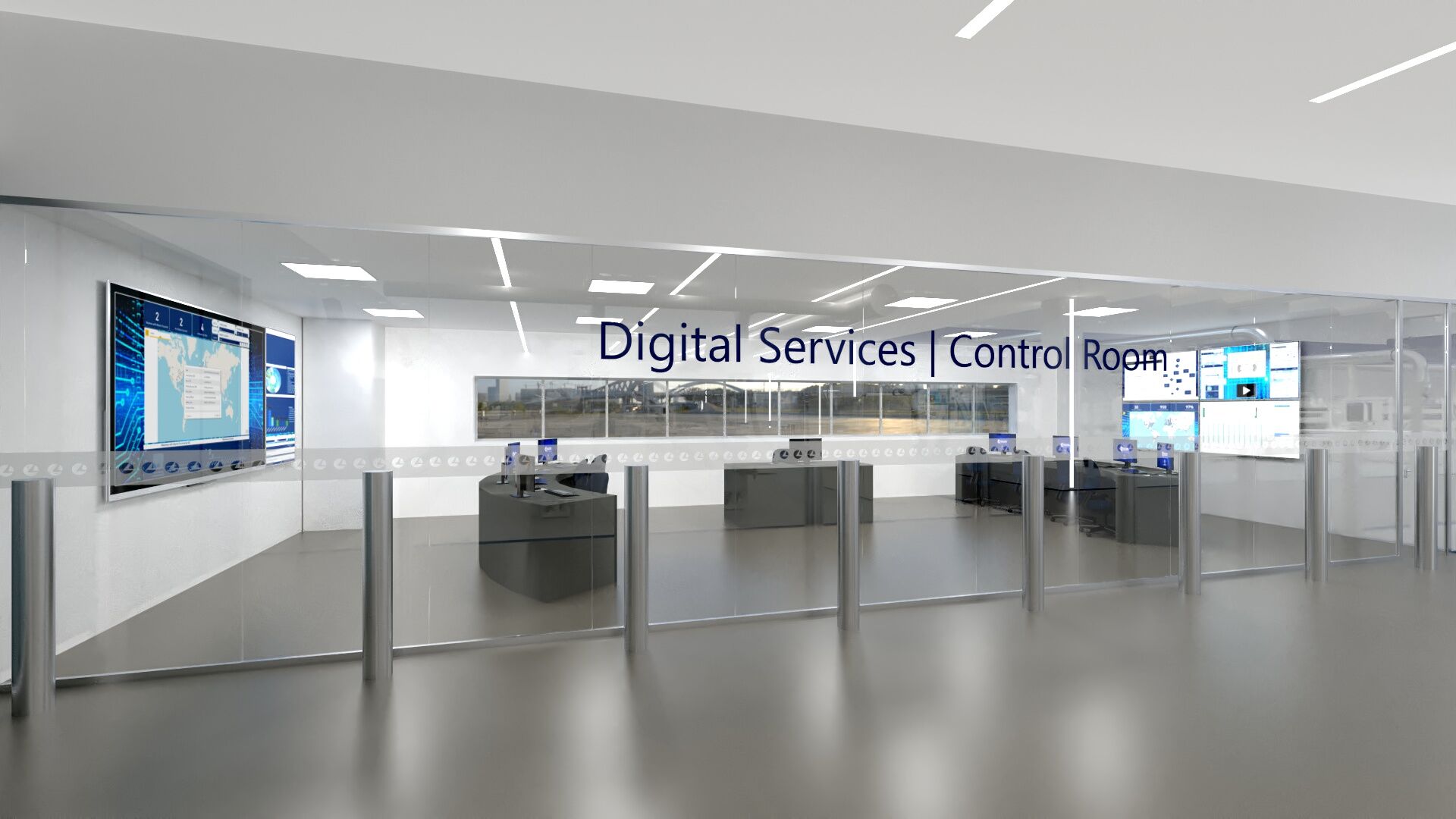 Maestro Power TMS: software to simplify and optimise tool management within SCM machining centres tool changers. It maximises the capacity of the tool changer according to the machining to be performed and allows more than 100 tools to be available at all times.

Software for beam saws
Maestro optiwise: optimiser for single-blade and angular beam saws to cut times, keep down costs and get the most out of the cut with as little waste as possible for each batch. And a user experience that is even simpler and optimal.

Software for edge banders
New version of the software dedicated to the Maestro edgestore manager for an optimized edge consumption and data sharing with company software and management systems. It is now also possible to perform complete management of coil stores and more than one edge bander within the company.

Innovative console for all SCM machines: expressing ergonomics, flexibility and high performance are the advantages of a unique, attractive and immediately recognisable look&feel to make the operator's work easier and offer modular programming and superior computing power.
---

The new SCM Technology Center will display new automated and connected solutions. Interaction systems between humans, machines, articulated robots and AMR shuttles, software and digital services.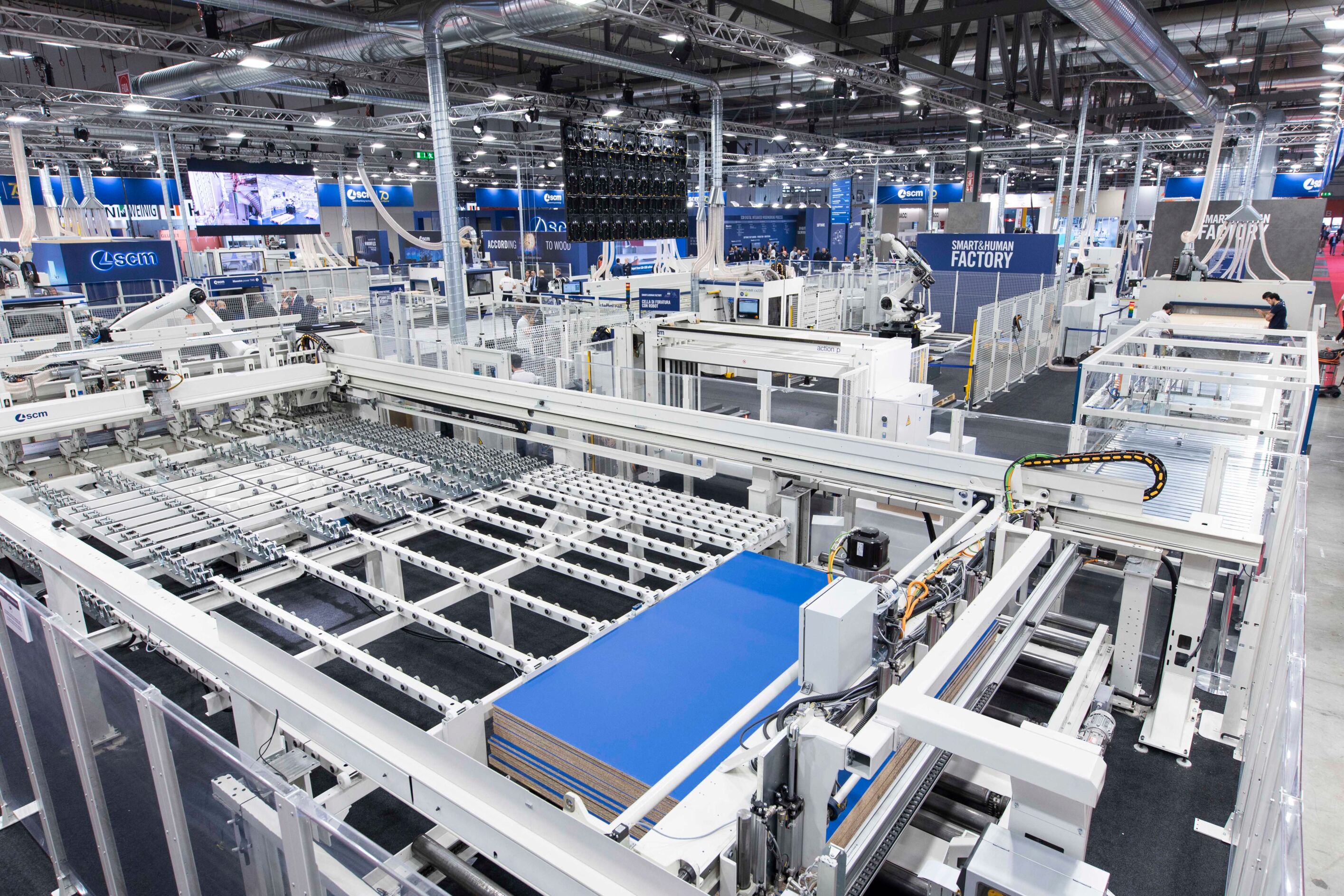 gabbiani gt2 beam saw with articulated robot for automatic loading and unloading: flexible cell that optimises shifts and promotes the needs of machining that is both "batch 1" and based on large volumes. It can be used with or without the articulated robot, with automatic switch from one modality to another. All this enhanced by the new Maestro optiwise optimiser.
Sizing and nesting cell ideal for "batch 1" with flexstore hp automatic storage and articulated robot for unloading finished pieces, small pieces and discarded pieces. gabbiani p80 beam saw and morbidelli x200 nesting machining centre are both integrated into the automatic warehouse that ensures storage, automatic labelling of the panels and direct loading onto the worktable of both machines, to protect the more delicate surfaces. Simultaneously, the gabbiani p80 beam saw can also perform pack cutting with exceptional production levels.
stefani cell E flexible edge banding cell: it combines the many advantages of stefani x industrial edge bander in terms of productivity and quality with those of an automated and flexible interaction. This happens thanks to the pickback gantry panel return system. The electronic touch operating units guarantee top finishing quality even on the most delicate materials, while the new hi-drive kit increases the positioning speed of the units for high productivity even in batch 1 production. All this with a simple and intuitive control thanks to HMI Maestro active edge software.
morbidelli cx220 flexible drilling and dowelling cell with robot to produce all furniture elements more efficiently, even with workpieces that differ considerably from one another. The cell produces one panel per minute and over 400 panels per shift, with one operator, in 50 m2. It can be used exclusively with the robot for a continuous cycle production, or with partial operator supervision.
---
On display new solutions for every production requirement, from sizing to assembly.
gabbiani vsi is the vertical panel saw with independent motors for main blade and scorer with mechanical plunging designed to make horizontal and vertical cuts on different types of wood materials.

olimpic 500plus: new edge bander for even higher productivity, processing solid wood lippings up to 12 mm and gluing plastic edges by using hot air technology for an invisible glue line.

For assembly, the featured action e, now available with the new unloading loading system: a valuable aid for mounting the cabinet at the working height of the clamp and pushing it into the pressing area as well as vertically positioning mounted cabinets and transporting them to the next work area.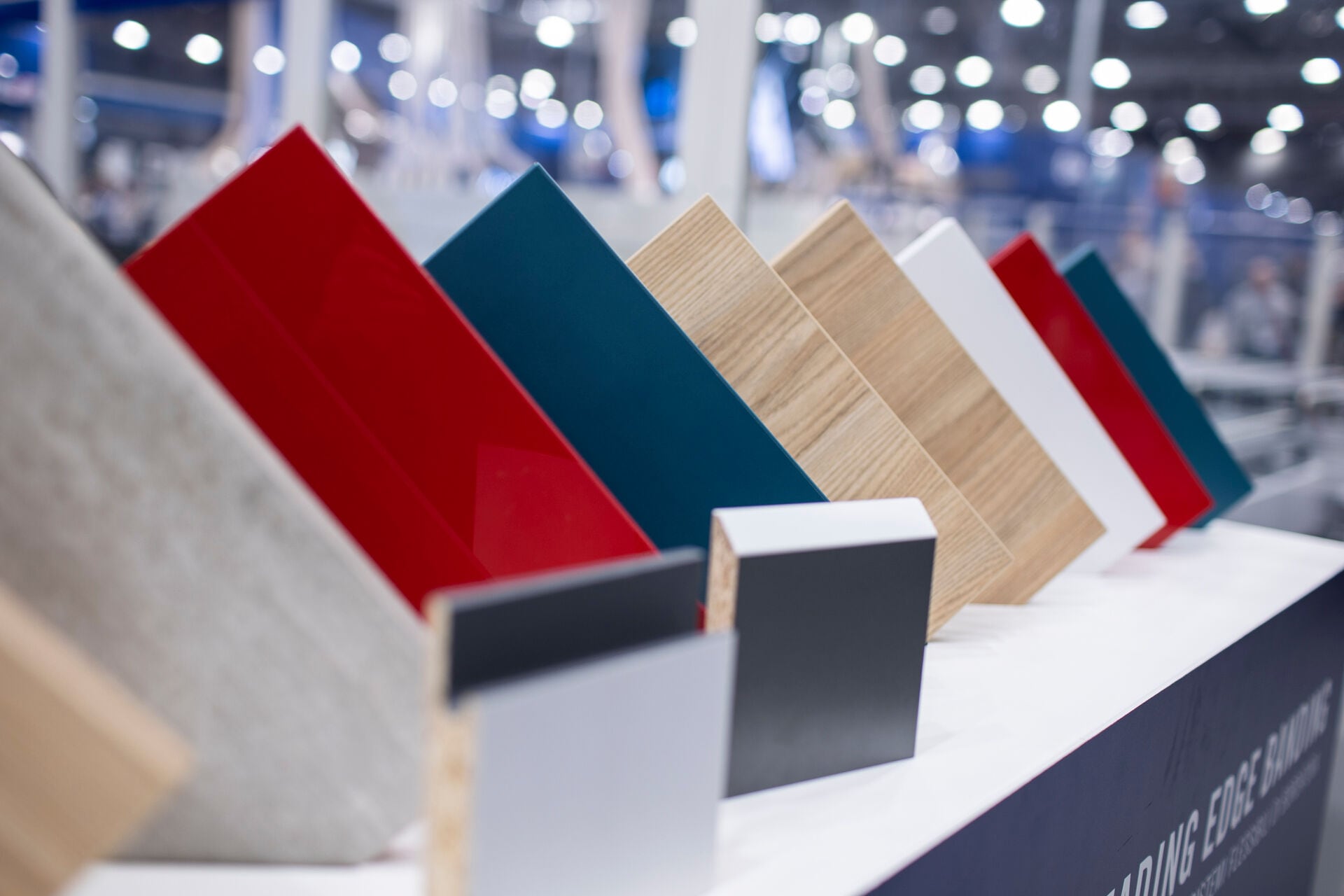 The action p manual loading and unloading electromechanical clamp machine is also revamped: the new operator interface (HMI) allows for even simpler and more intuitive operation and enables import and export of work programs, production data and general database.
---
---

New solutions to satisfy every process demand and create sophisticated, state-of-the-art finishings.
At the Grand Opening the latest for dmc eurosystem and dmc sd 90 will be presented for sanding and calibrating.
The main advantage of dmc eurosystem, highly modular automatic sanding-calibrating machine, is its capability to perform a variety of machining work on both raw and painted panels. At the Grand Opening you will find the new 15'' "eye-S" control panel, that allows you to manage all the sanding functions directly from the touchscreen, and the brand new Maestro active sand HMI which among its new functionalities is able to manage the tool storage, indicating the quantity per type of belts available in stock and giving an automatic warning when they are about to finish. The machine is equipped with the new planetary unit, ideal to achieve a precise finish on any surface, while the GSI-200 interchangeable brushing unit has been designed for companies looking for maximum production flexibility.
First ever preview for the exclusive roller unit with fixed drum and interchangeable rubber sleeves of different hardness available on dmc sd 90. With this brand-new configuration, the machine is more flexible and meets small and medium-sized companies' productive requirements. Its compact size makes it perfect to be positioned even in the narrowest spaces, meeting the company's requirements to optimise production spaces. The new unit allows the operator to pass from calibrating to sanding operations on solid wood, raw, veneered and polished panels in just a few minutes.
On demand, at the Surface Lab in Villa Verucchio (Rimini), dedicated demos can be carried out on dmc system with laser engraving unit. The innovative unit enables 3D marking on wood flooring, solid wood elements, MDF panels to veneer, fibre cement and solid surfaces panels of any length for unique creations. Among the most innovative technologies for the panel surface treatment and finishing, there is also sergiani 3d form press for ennobling panel with 3D surface to perfection.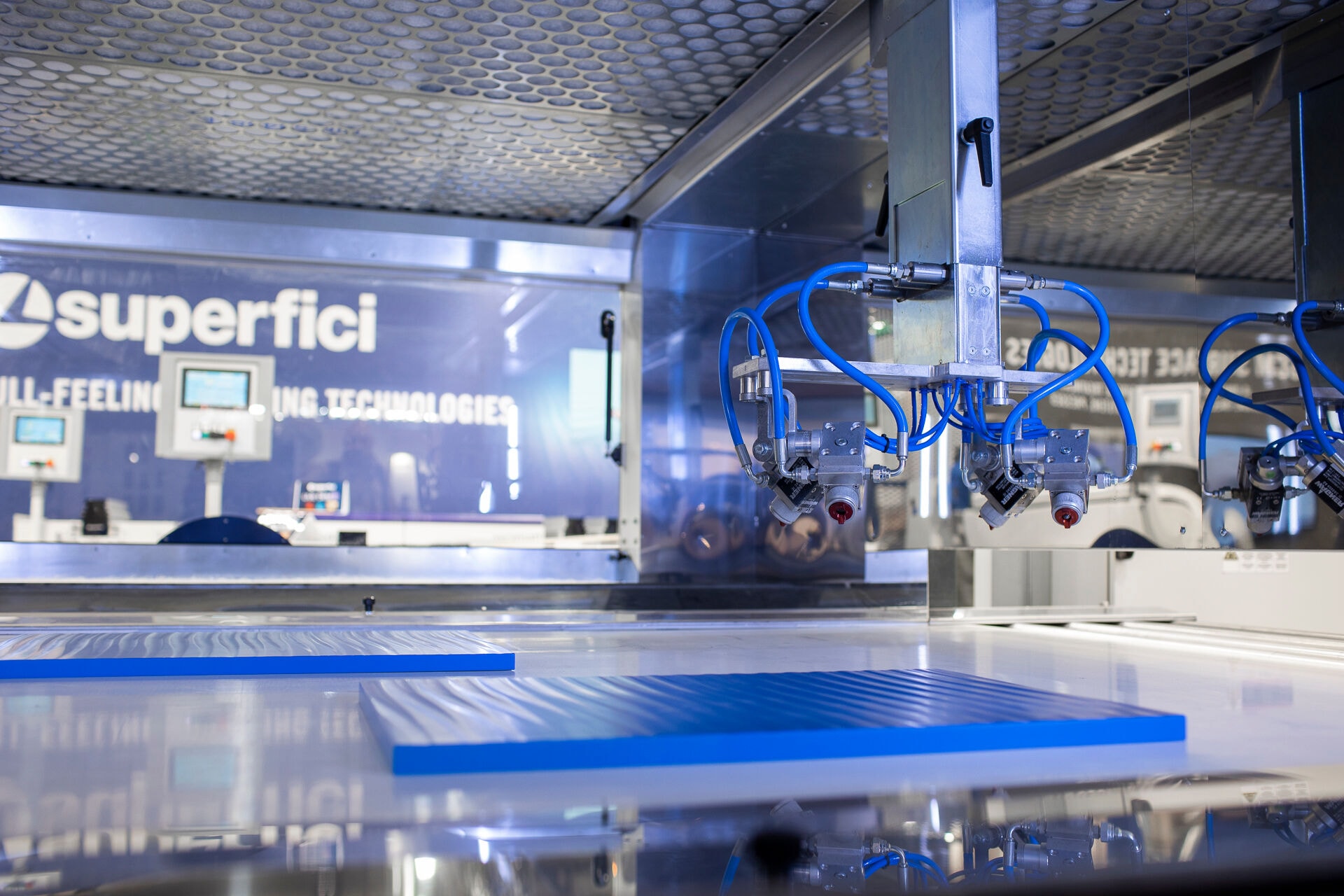 Finishing specialists will present you the latest trends in the painting sector. If you are interested in discovering more you will be able to request to our sales team for a visit the Superfici Technology Center located in Villasanta, Monza. Between most of our machine portfolio, you will also find our cutting-edge machines:
compact xl: sprayer for medium-to-high production capacities, offers a more efficient paint recovery system, and advanced air volume recirculation.
UV led curing system with multiple monochromatic UV sources at different wavelengths: for performance fully comparable to conventional UV curing while retaining the advantages of LED.
Excimatt: Superfici's excimer technology for finishing various products and materials. To give extra-opaque effects of surprising velvet smoothness without compromising surface strength.
Robot maestro: for painting window frames: designed starting from the movements of a craftsman's arm, transformed into an anthropomorphic, now 8-axis robot for processing even larger window frames.
bravo2: cartesian robot for panel painting. Two 5-axis heads for precision, reliability, and smoothness combined with the speed and production continuity of an automatic spraying system, for unprecedented quality.
---

The Grand Opening will also be the opportunity to discover a world preview inside the expanded factory in Rimini, the new system 9 integrated line for windows and doors manufacturing, which includes another absolute novelty: the celaschi action bilateral tenoning machine.
The SCM line stands out for the rapidity in its setup change and the extreme versatility in the management of work-piece lengths, allowing the production up to 200 complete windows per working shift, even with medium-small batches.
The new celaschi action, in particular, allows to process two elements of different lengths simultaneously, exploiting the principle of machining with moving motors and stationary work-pieces. Among the pluses, the presence of 4 electrospindles each served by an 6-position tool changer.

In Rimini factory will be on show also windorflex, the new automatic machining cell for producing complete windows, designed to optimise production rhythms by maintaining high flexibility and excellent finishing.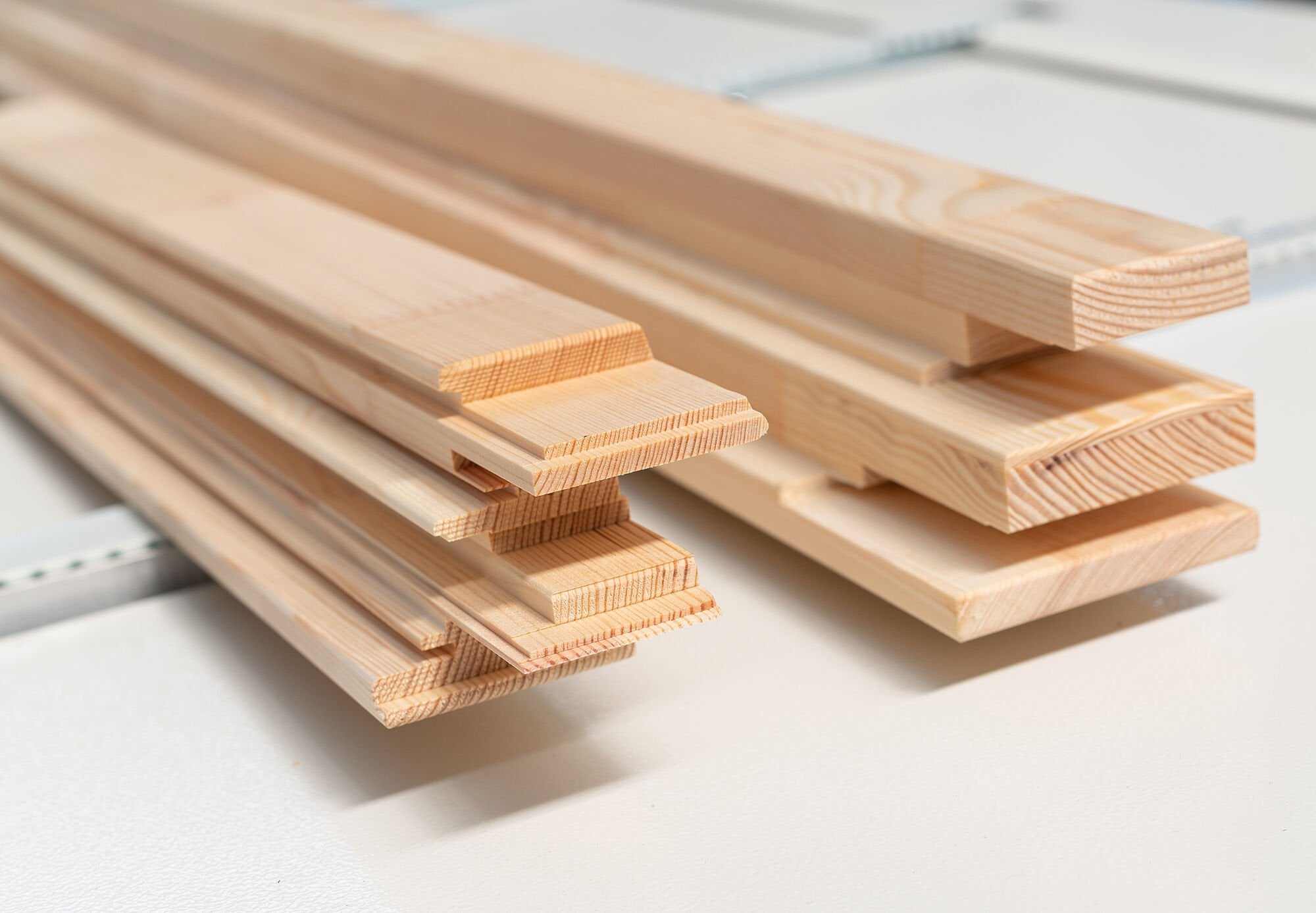 accord 500/600: cnc machining centres to produce windows, stairs and solid wood elements. It offers 30% higher productivity compared to market standards and an intelligent management with Maestro Power TMS.
News also for the superset nt automatic throughfeed moulder, now equipped with SCM's IoT platform Maestro connect, for an intelligent and connected production of profiles for windows, doors, stairs, beads, frames and furnishings.
Among the new entries also connexus fj, the tenoning-mortising machine that meets all the machining demands for different kinds of solid wood or coated MDF, including complex joints such as miter door, face frame and french joint on cabinet doors and shutters.
---

Ample space will also be given to the latest innovations for timber construction, presented in digital mode. The range of cnc machining centres and advanced systems is being further expanded.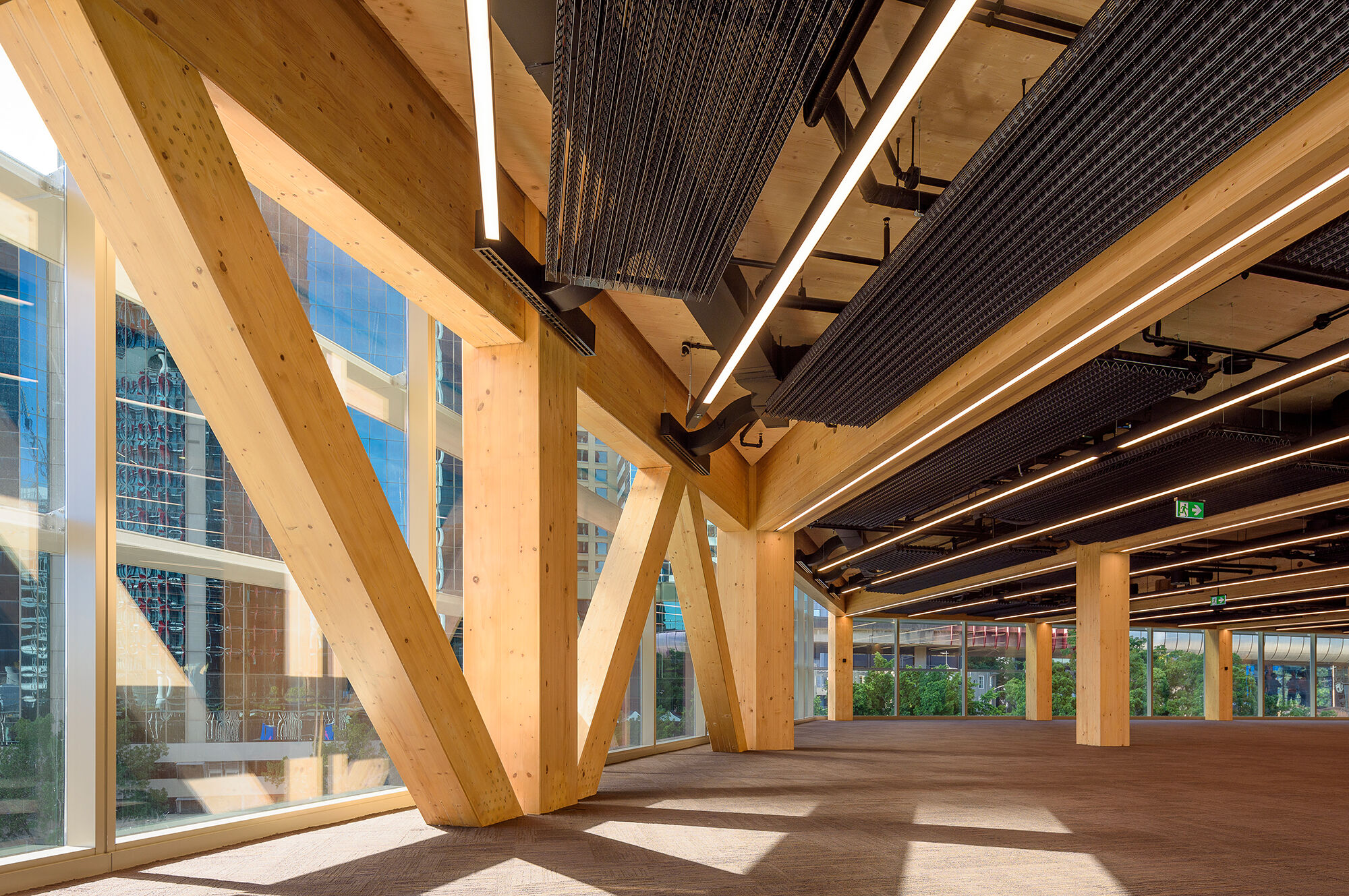 oikos xs: maximum speed of execution, precision and reduced footprint are the advantages of this new CNC machining centre designed for processing glulam or solid wood beams with a maximum cross-section of 450x240 mm.
oikos xl+: the new CNC machining centre for processing modular panels and structural columns with a maximum cross-section of 1,250x610 mm, used in the construction of multi-storey buildings. The presence of an independent saw blade unit, in addition to the 6-axis operating unit, allows through cuts to be performed even on the highest thickness.
dmc system xl: highly modular automatic sanding-calibrating machine, capable of machining CLT panels up to 3700 mm in width and 500 mm thick.
---

On show the most representative SCM joinery machines, world leader for top of the range, unique performance and continuous innovation.
Stand alone solutions but also integrable ones like those of the Smart&Human Factory integrated cell for flexible and customised production from the raw material to the finished piece of furniture, enhanced by the integration with the MES Software.
The cell can be configured by choosing among various models, for example:
- L'invincibile si x circular saw with ± 46° blade tilting and/or class px 350i circular saw with mobile saw carriage with a up to 46° tilting blade that allows the maximum safety when working and perfect panel clamping: Advanced technology with the SCM Thundercut Optimizer/Sequencer, unique in driving the operator step by step when inserting the panel into the machine and in cutting.
- me 40 and/or me 35: automatic edge banders with the new eye-S compact control panel with Maestro active edge interface for an optimal machine management.
The control graphically represents all the machine functions and manages the new on/off system for the operating units and the automatic set up with multiradius tools on the trimming and edge-scraping units, guaranteing high performance according the program function.
- CNC drilling centres: startech cn plus has been designed to easily and flexibly produce furniture parts without repositioning the tools and without a need for operator-intervention; startech cn v, fully automatic, works coupled to a panel locking with clamp, to make work fast and effective, without interruptions.

Also other news will be highlighted at the Grand Opening: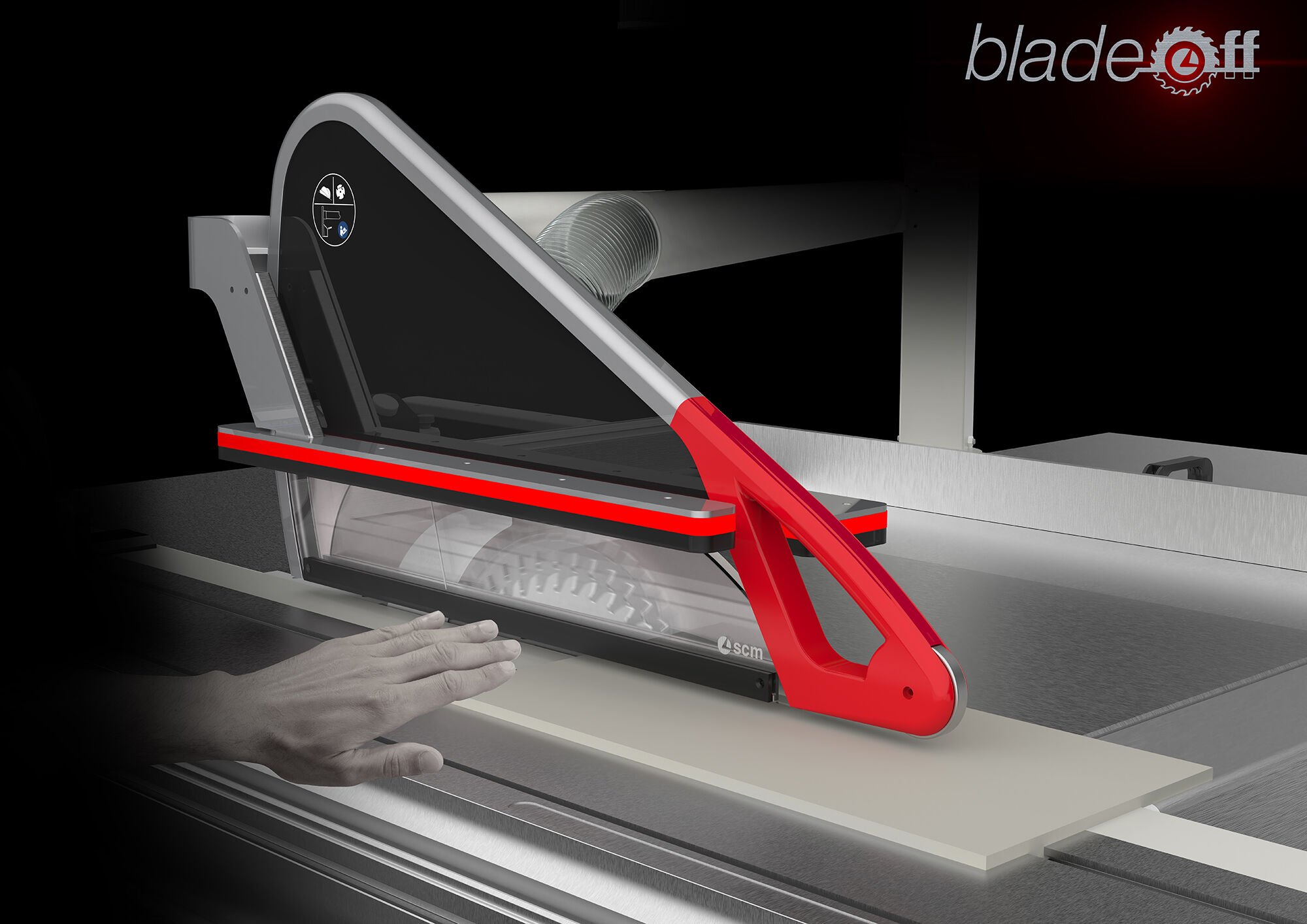 "blade off": the innovative safety system designed by SCM and applied to the circular saws. Thanks to the smart sensors it prevents accidental contact between the human body and the blade by automatically excluding it and stopping the execution of the program without damaging any machine component.
startech cn k: compact 3-axis NC machining centre ables to carry out all types of milling, decorations, engraving, signboard creation and 3D model prototyping. The only one in its category equipped with a 2,4 kW electrospindle. The integral cabin ensures absolute protection for the operator and keeps the surrounding environment clean. Very simple to be programmed, thanks to the "Open" virtual human-machine interface capable of importing G-code from any CAD/CAM software.
---
SCM aims to provide its guests with the best possible service, taking care of hotel bookings (with details in the form), airport transfers to/from Bologna airport and transfers to/from the hotel to its headquarters.
Registrations for the event are closed.