Technologies for Windows and Doors
With huge diversity in its product offer and some very stringent standards to comply with, Principal Doorsets turned to SCM for a turnkey pressing solution.
Principal Doorsets is well known for the manufacture of fire doors, acoustic doors, x-ray and security doors, along with associated wall panelling. The Barnstaple-based company provides for the needs of clients that include architects and specifiers working on anything from hospitals and schools to high end residential projects, leisure complexes and commercial premises.
Its products have to meet the most stringent of standards – up to FD120 for fire doors, Rw43Db for acoustic doors and PAS24 for residential security doors. Specifiers who need a seamless finish with no visible bead or joint to the face either side of the door rely on Principal Doorsets to provide solutions.
Until the installation of a new line, Principal Doorsets was processing panels with a manually-fed press. "This operation
took two people and required a lot of manual handling," Director, Stan Bond, told Furniture Journal.
"When we moved into our new factory in 2018, we carefully laid out the manufacturing to accommodate a new pressing line. We were looking to include as much product handling, cleaning and preparation within the line as possible and wanted to significantly increase our panel pressing capacity whilst managing labour increases and ensuring quality was not adversely affected."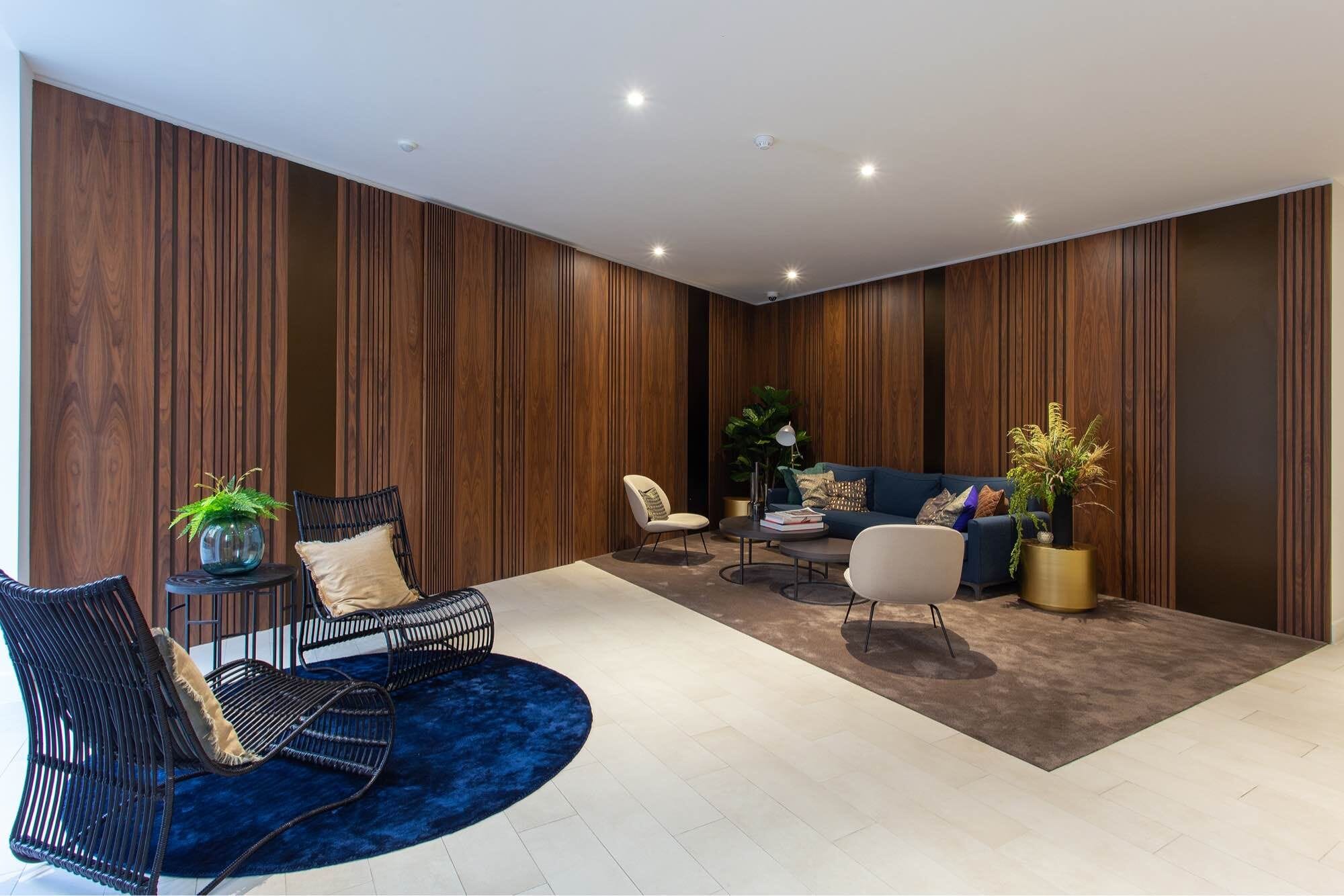 Stan and his team took the opportunity to visit a number of factories and see various pressing lines in operation before settling on a custom-built "sergiani gs-a", a turnkey solution from SCM.
"After a thorough evaluation and visits to manufacturers, we discussed with SCM their offer. SCM were engaging and assisted us in understanding the press solutions fully. Their approach was professional and comprehensive and had us engaged from the outset. The price was competitive, as was the delivery availability. It was a no brainer."
Requiring only one operator to run the line with loading handled by a fork lift, the new automatic line at Principal Doorsets comprises a scissor lift at the feed end, a brushing unit, a glue spreader, a motorised disc conveyor and a double laminating holding carriage ahead of the composition station, press and roller outfeed.
Carlo Ferretti, SCM's Product Area Manager, explains the key stages of production: "The operator deposits a stack with a maximum height of 1,200mm on top of the lifting platform. The scissor lift was supplied with special seats for the fork lift that allow the operator to deposit the stack directly on it. The stack is automatically positioned at the working height by a levelling photocell, and a pneumatic feeder automatically feeds the line, pushing the core from the stack inside the brushing unit. Once the core is pushed into position, the feeder returns and the lifting platform raises to allow the next loading cycle.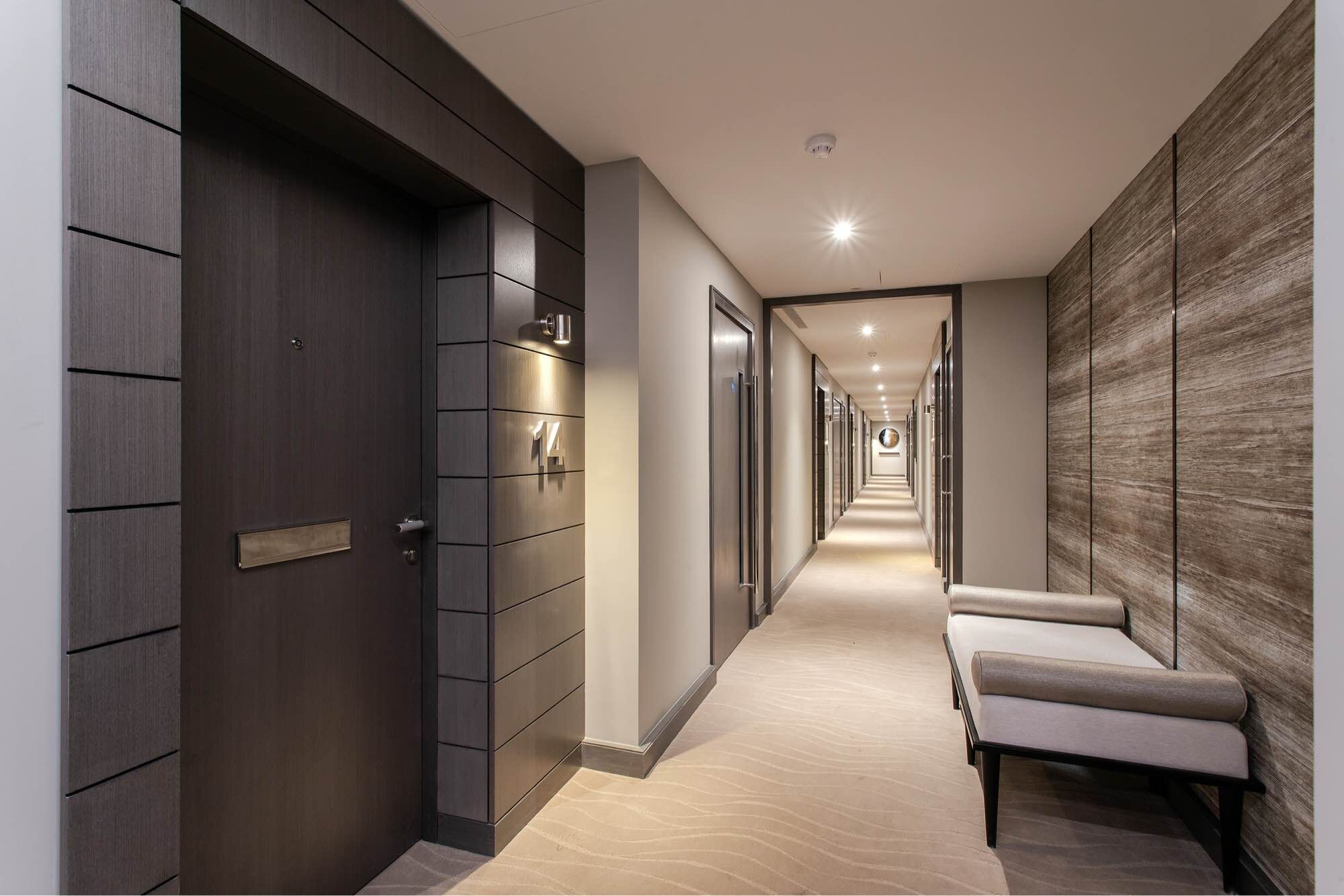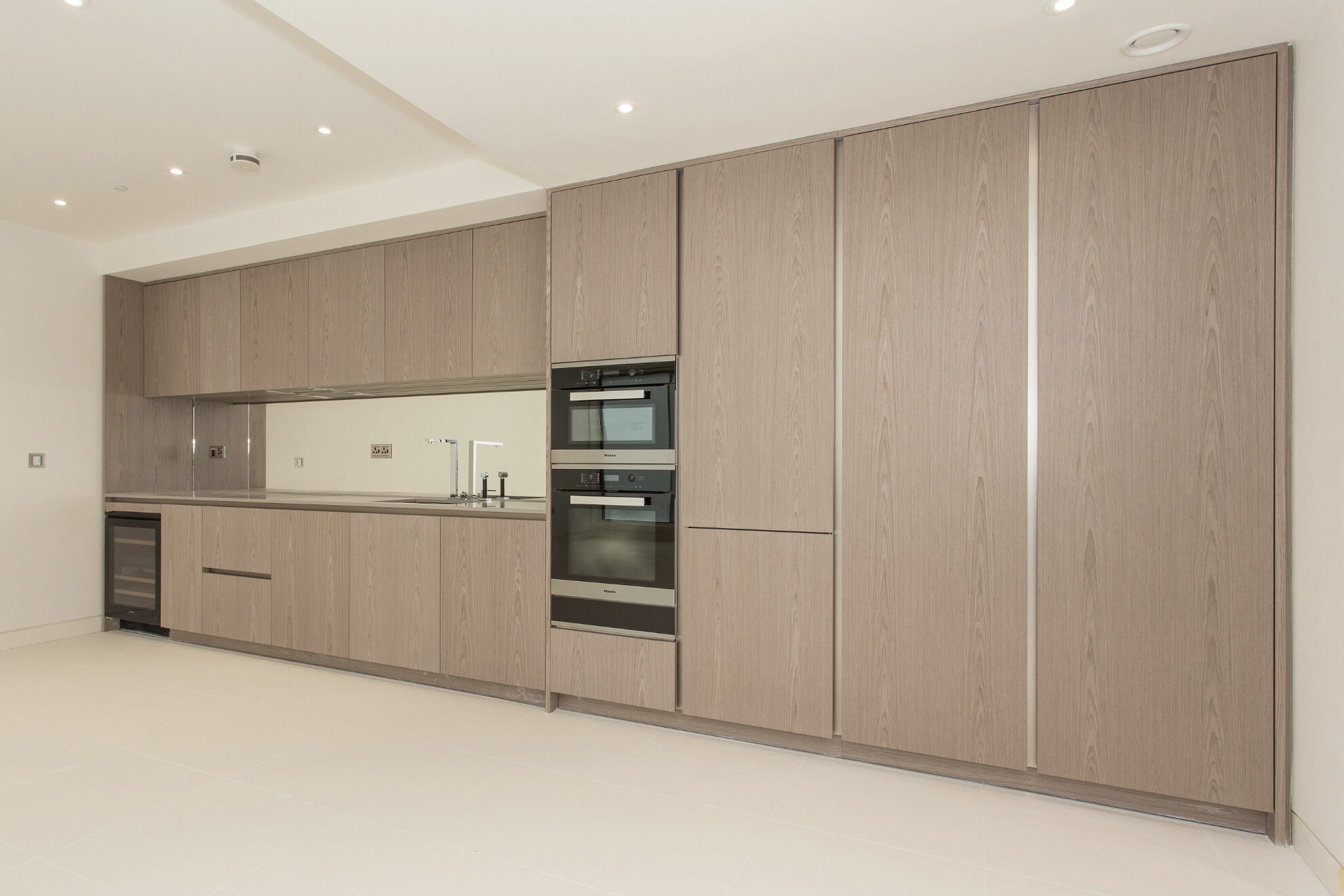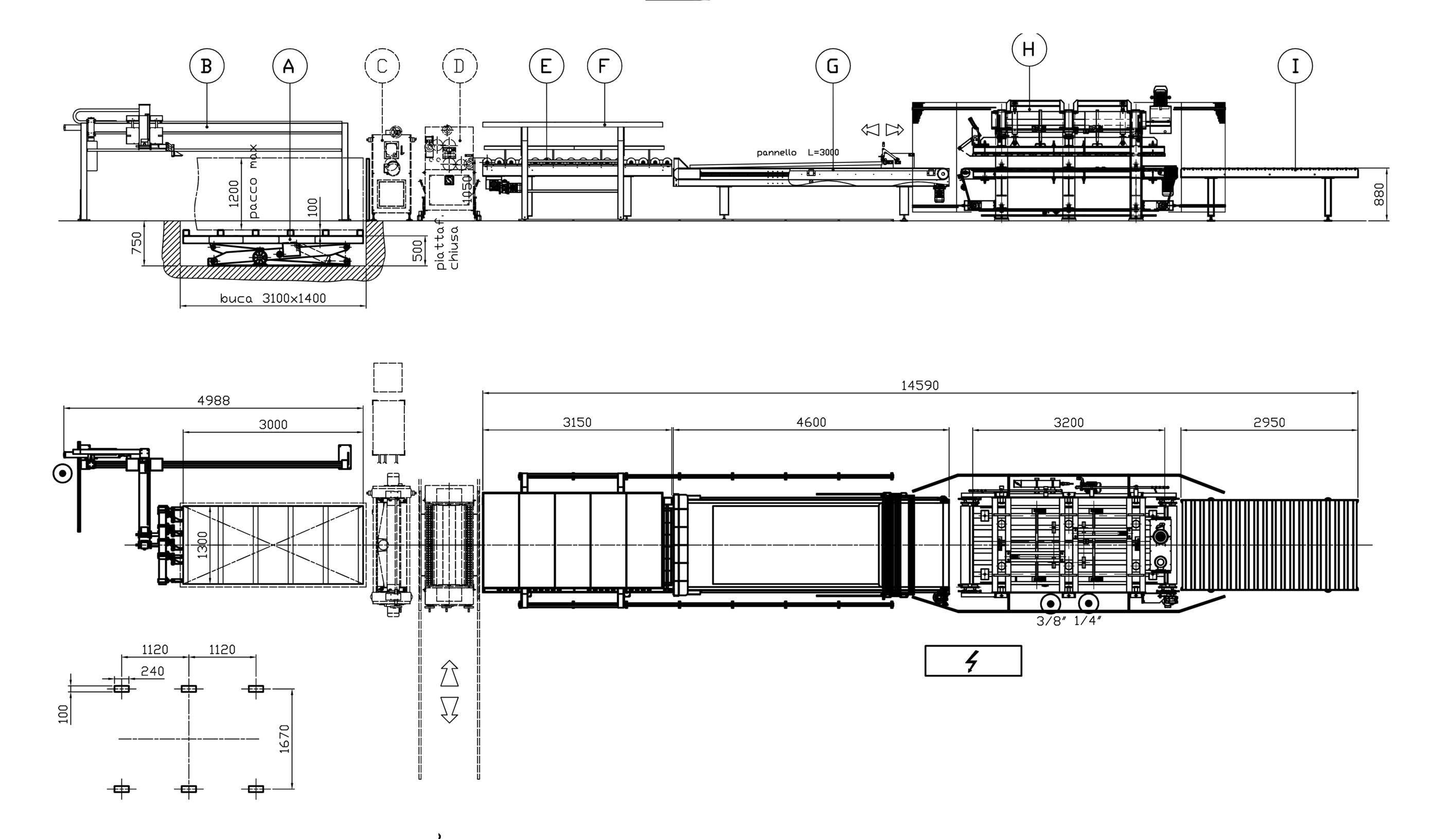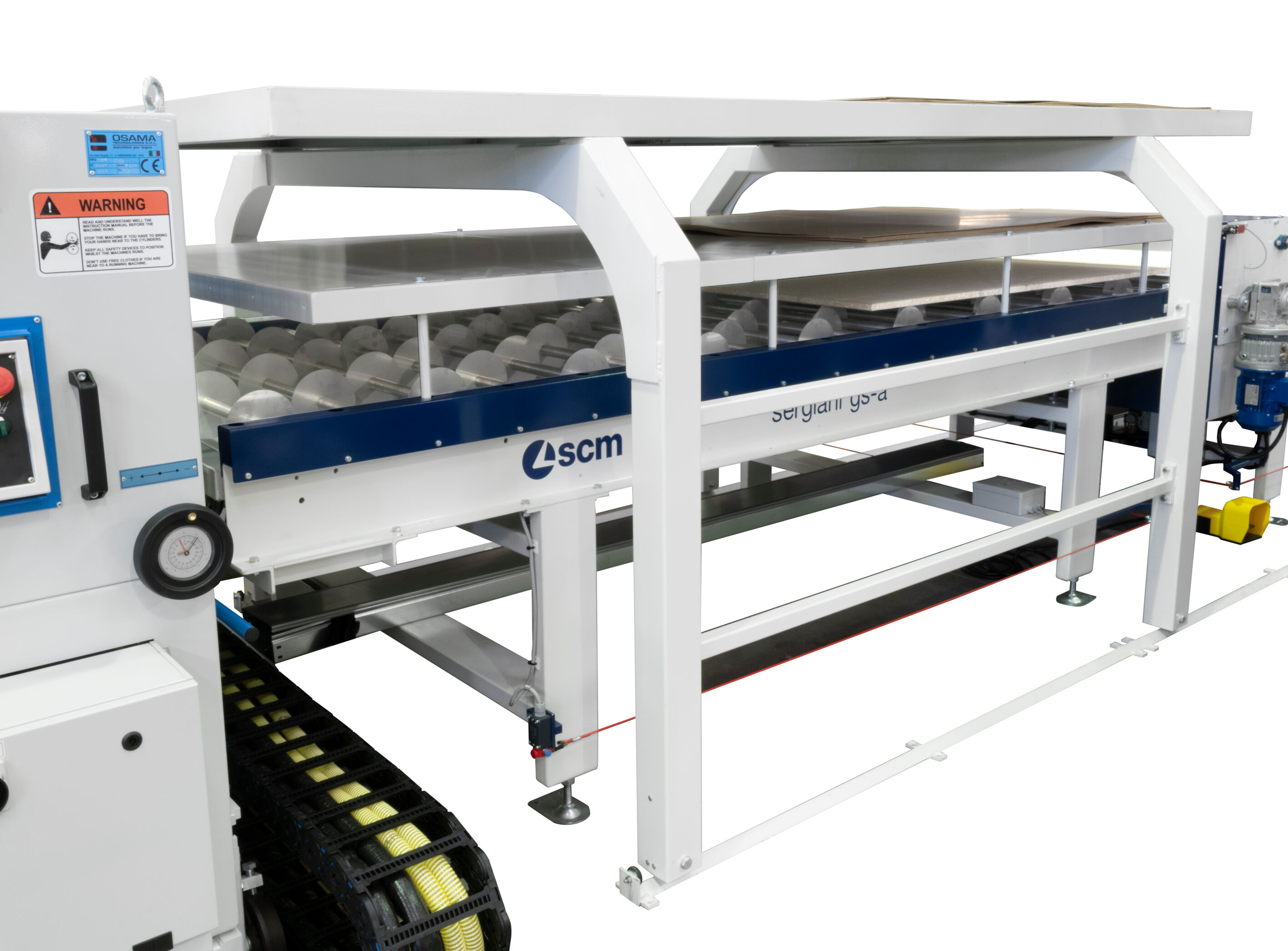 "The panel, now in the brushing unit, advances by means of dragging and pressing rollers. Two brushing rollers clean it, conveying the dust into upper and lower suction hoods. This phase ensures perfect cleaning of the core before glue application to remove any loose particles so there are no inclusions within the glue line that might show through a facing.
"Once inside the glue spreader, glue is applied to both sides of the core simultaneously. This machine is equipped with four rollers – two spreading rollers and two doctor rollers that ensure the correct glue quantity is spread on the panel. They provide perfect control of the glue quantity during application, resulting in better gluing quality and glue savings."
Principal Doorsets specified two additional options to further enhance productivity: an automatic chilling unit that ensures consistent glue temperature and an automatic glue feed system.
"The automatic chilling unit provides better control of the process, even in different ambient conditions, while the automatic glue feed system avoids downtime associated with glue feeding."
By incorporating stainless steel discs in the motorised disc conveyor that self-clean by rotating in a water tank, SCM's design engineers have been able to prevent the build-up of glue deposits. They've also restricted the area that's in contact with the core, reducing the risk of unwanted glue transfer to the product – and made loading and unloading of the fixed level easier by including a double holding carriage, one fixed and one movable.
For increased productivity, the open composition station includes a manual positioning device that's placed above the conveyor for accurate alignment of the glued core on the bottom laminate before it enters the press. Even when heavy panels are involved, one operator can perform this operation quickly and easily.
"Our 'sergiani gs-a' 6/120 3200x1300 automatic hot press is the perfect solution for doors and veneered panel producers, and it is the heart of the line at Principal Doorsets," confirmed Carlo.
"From its control panel, the operator can manage and set all the line functionalities. The system is equipped with dedicated software that makes the use of the press quick and easy. The operator can save all the working programs and recalling them sets all the line parameters. According to the product dimensions and the specific pressures required, the control panel sets the hydraulic pressure of the press and the cylinders that need to be activated.
The temperature of the platens, the pressing time and the feeding unit can all be set from the control."
Once pressed, the finished door or panel passes to a roller outfeed conveyor that allows it to cool down prior to unloading.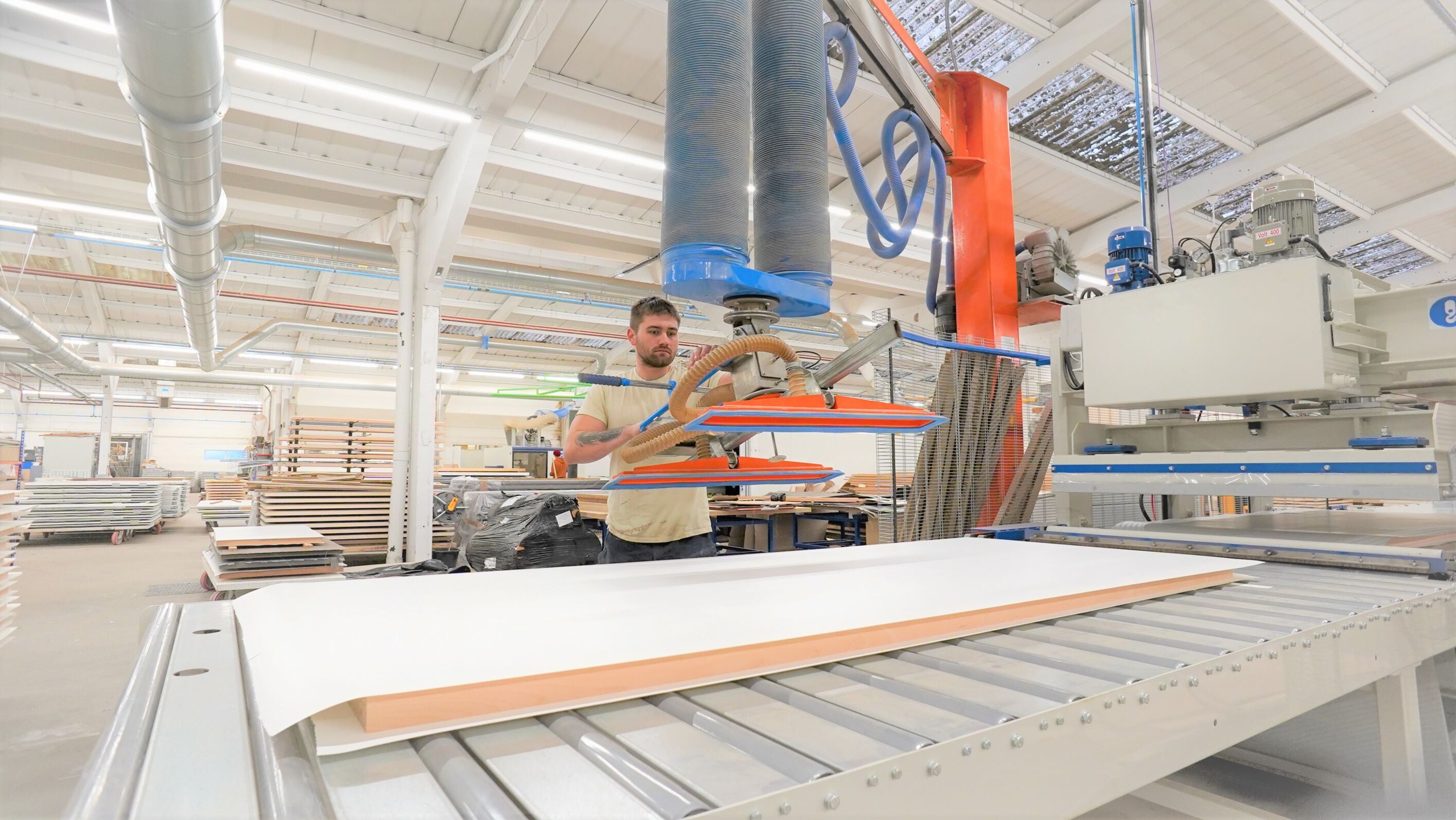 Principal Doorsets' "sergiani gs-a" press line, like most solutions supplied by SCM, was designed and built to fit perfectly with the company's needs, some of which were quite specific. With products ranging from 6mm up to 98mm in thickness, widths of up to 1200mm, panel lengths that could be anything up to 3100mm and weights of up to 120kg, versatility was key, and careful consideration had to be given to both the handling and processing stages.
Added to that, SCM's design engineers had to take into account the variety of different materials to be laminated and the numerous single and two-component glue types demanded by an immensely divergent product range – then factor in Principal Doorsets' key reasons for investing in an automatic line: to significantly increase its panel pressing capacity, reduce its labour costs and maintain or improve the quality of its products. The solution SCM provided has reduced labour from two operators to one, cut maintenance and downtime and enabled productivity increases of up to 30%. The line is capable of producing around 200-250 doors per shift.
"This press model is really flexible," Carlo explained. "According to its configuration, it can be used by different customers from small to medium-sized joineries that are producing doors, veneered and/or hollow core panels up to big manufacturers that need a flexible line where they can produce batch one supplies. It provides a uniform specific pressure and heating, and it can be used to glue very different types of materials – for example, we have just supplied a customer in France who is producing kitchen tops made from glued panels of a special ceramic that are laminated to an expanded polystyrene panel. We can offer glue spreaders and specific rollers for use with different types of glues. For high gloss lamination, we have a dedicated device for cleaning of the mylar belt. We have many different solutions and configurations to fulfil our customers' needs from a stand-alone manually-fed press up to a fully automatic line that's able to produce 1000 doors per shift with only one operator.
We are able to tailor our solutions according to productivity, labour involved, the required quality of output and level of investment, and we provide solutions at a competitive price."
"The SCM press fits very well into our panel process," said Stan, who is clearly as pleased with the outcome as he is with the service he gets from his long-term partner, SCM. "With the new line installed we can run with one operator at the rate we ran with two. We also have the benefit of a glue application line that meters the glue onto both faces of the product simultaneously, providing consistency in replication of the product and consistent quality. The set up and engineering during installation was helpful with training for our operative. We have not needed SCM's support since," he said, concluding "The training was successful."
Credits: Melvyn Earle, Furniture Journal
---
Principal Doorsets