SCM celebrates 70 years of innovations for the woodworking industry at Xylexpo
12-15 october 2022
Milano Rho Trade Fair, Hall 22-24

The latest edition of Xylexpo will be held from 12 to 15 October at the Milano Rho Trade Fair in conjunction with Bi.Mu.
Don't miss the chance to visit SCM's innovative and multimedia stand (Pav. 22), to celebrate the Group's 70th Anniversary with us and discover a globally unique range of products and services to satisfy all the production demands for woodworking.
---
If you do not have the opportunity to visit us at the fair, follow our online presentations by registering for the streaming.

---
THE PROGRAMME
All the latest from SCM will be on show with multimedia and interactive systems, 3D animations, specific daily demos, remote link-ups with the SCM Technology Centers and interviews in streaming with our experts. Here is a preview of SCM's extensive programme at the Trade Fair for visitors to Xylexpo and its streaming platform.
LIVE DEMO from 12 to 15 October
in Italian with simultaneous translation in English
1 )Smart&Human Factory Demo for Industries and Artisan workers: h 10:30/14:30 : h 10.30 / 14.30

2) Software Power TMS on the accord 600 CNC machining centre: h 12:00/15:30

3) "Blade-off" applied to the Invincibile circular saws: h 10:00/11:30/14:00/16:00.
SCM NEWS: THE FLOOR TO SCM'S EXPERTS
in Italian with simultaneous translation in English
Fun facts and an in-depth look at what's new in the technology, software and digital services on show. For visitors to the trade fair and those in streaming on the platform and social network. h 10:15/14:15
---
SMART&HUMAN FACTORY FOR INDUSTRIES AND ARTISAN
Together with the SCM team, you will discover a new vision of the digital, connected and integrated factory, designed to accompany every business and field of application in the sector: from artisans to large industries; from furniture to windows and doors and from woodworking to timber construction.
But, above all, you will have a chance to take a closer look at SCM's Smart&Human Factory, aimed at making your processes even more efficient and sustainable, in two specific versions for industries and artisan workers.
Automated, modular and easily reconfigurable flexible cells, capable of meeting all the demands of Industry 4.0., that combine the sturdiness, efficiency and reliability of SCM technologies with world class manufacturing products and digital services:
MES systems for production management and control;
supervisory software for lines and cells to monitor the state of each of the products being machined throughout the process;
IoT systems and apps to gather and analyse data from the machines, for complete control and the implementation of intelligent, prognostic maintenance models;
robotic and automation systems integrated into the machines, these too flexible and modular, for use in large industries.

SCM DIGITAL INTEGRATED WOODWORKING PROCESS
Technologies, software and digital services will integrate at each of the stages - preparation of data, planning, production, monitoring and assistance - to increase productivity and connect the entire process from the office to the factory.
What do we have in store for you?
easyFlow, SCM's new plug&play MES, simple, scalable and suitable even for artisan businesses
Thundercut, the cutting optimiser-sequencer that brings the potentials of a circular saw closer to the most powerful industrial panel saws
My Scm, the portal that provides access to an extensive range of technical support services, anytime, anywhere, even from a smartphone;
the new SCM integrated E-shop for the on-line sale of spare parts, software and services;
Maestro connect, the IoT platform perfectly integrated into the "Woodworking made Izy" project that sees the most important machinery manufacturers involved in providing a common language for their technologies, to the full benefit of the customer.
---
THE LATEST NEW ENTRIES ON DISPLAY
Made in SCM innovation embraces the entire range of solutions on show for the sector.
---
Smart&Human Factory for industries
Flexible cell on gabbiani gt 2 beam saw with robot for automatic loading and unloading. Designed for use with or without an operator, that optimises the customer's production shifts and combines 'batch 1' machining needs with high volume production.
Edgebanding cell: all the advantages of stefani x industrial edgebanding in terms of productivity and machining quality, are now further enhanced thanks to the new Fastback 27 automatic panel return system.
Morbidelli cx220 drilling cell with robot: flexible cell for 400 panels per shift, with a single operator, in just 50 m2.
Action p clamp: the solution for assembling all the parts of furniture with precision and simplicity thanks to its automatic setting.
Packaging: also highlighted, the pack 100c for the automatic closure of pre-punched cardboard boxes using hot-melt glue.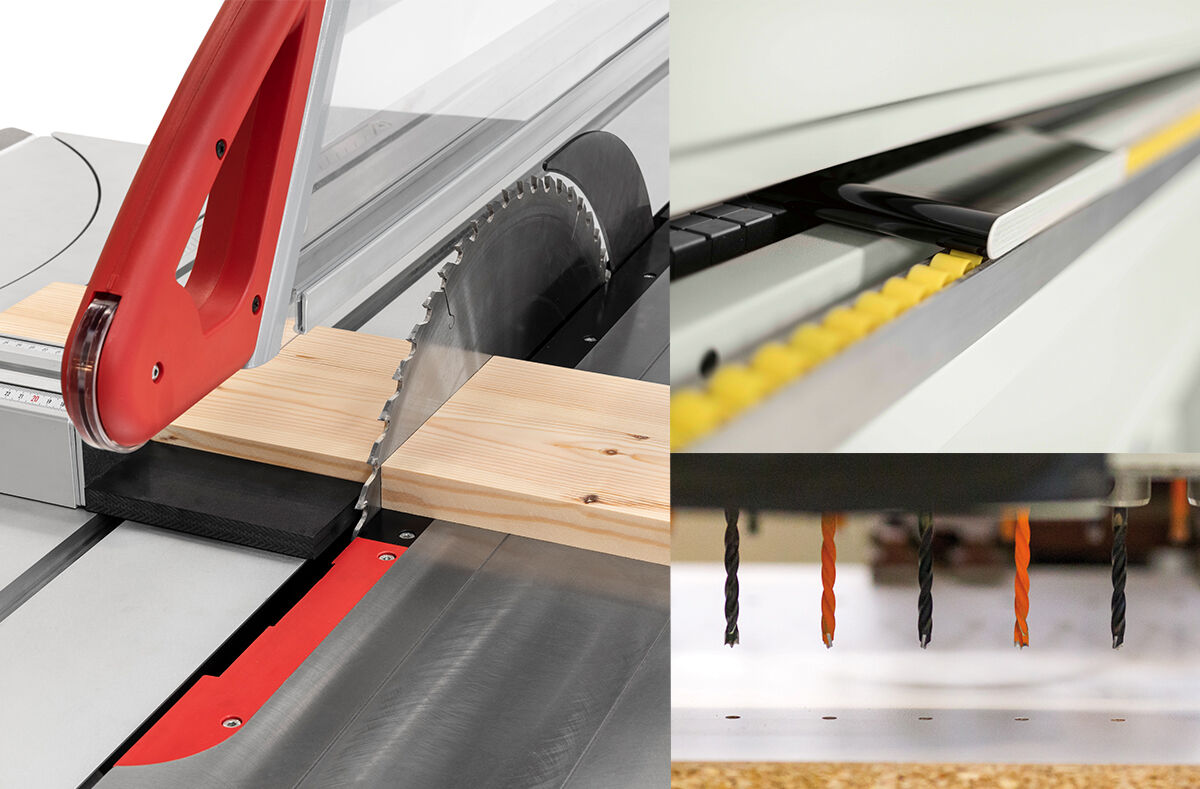 Smart&Human Factory for the artisan worker
Integrated cell for flexible, customised productions from raw material to the finished piece of furniture, that draws advantage from the positive features of the three machines involved:
invincible si x circular saw
startech cn plus CNC drilling centre
me 40tr edgebander
Three machines for a single perfectly orchestrated job that dramatically reduces times and margins of error.
---
PANELS TECHNOLOGIES
Nesting
Morbidelli x200 CNC machining centres for nesting: for a flexible, "batch 1" production with exclusive objectives in terms of productivity for this category of technological solutions.
Edgebanding
olimpic 500: new edgebander for SMEs, that concentrates strongly on the design. Versatile and compact, it has a 2-engine rounding unit and a new control system for even more efficient production.
Live from the Technology Center in Thiene stefani sbx, the new squaring-edgebanding machine with SCM's most advanced technological innovations for the industry: Servo electronic units and other solutions for excellent productivity and performance with every machining.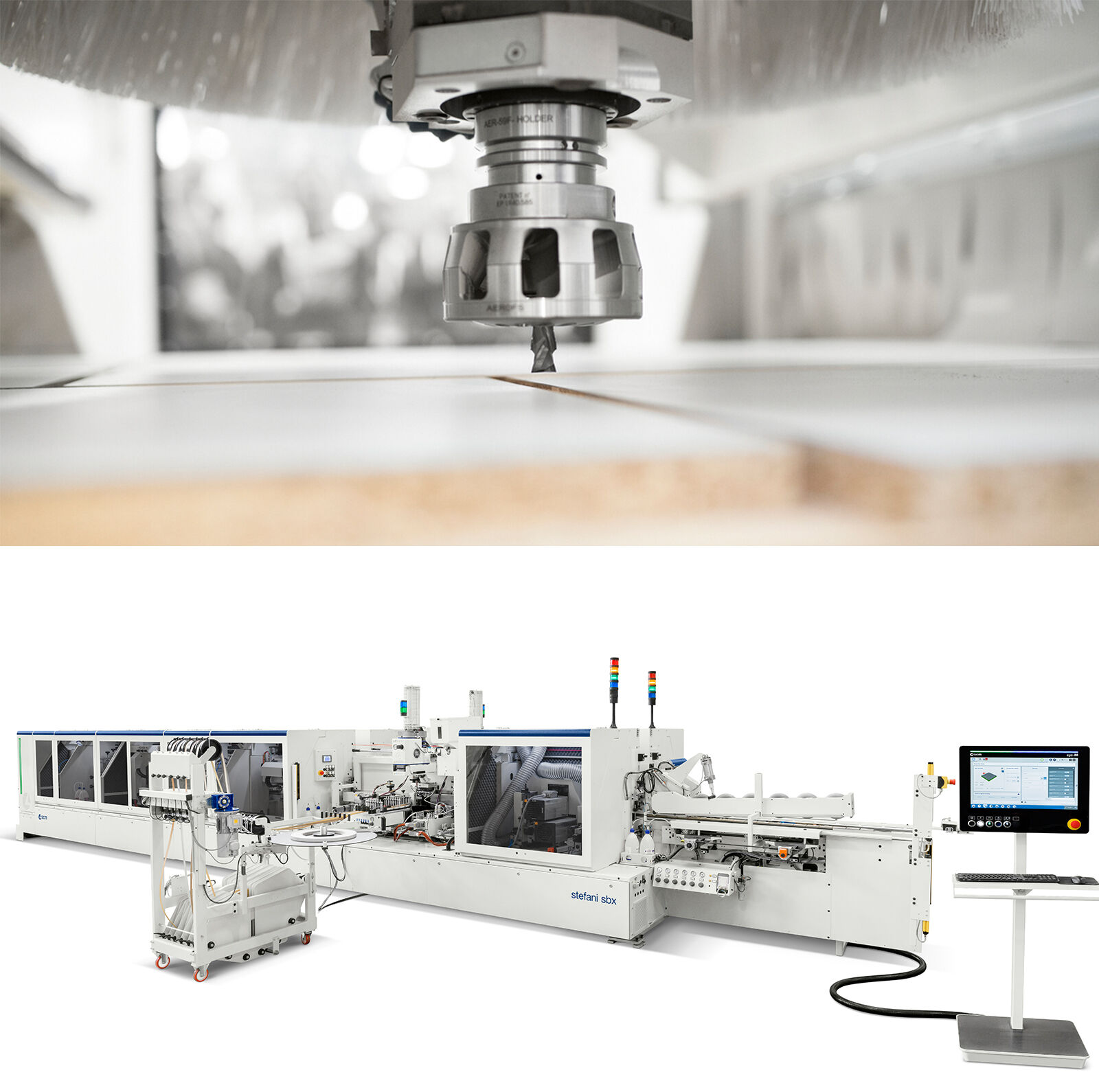 ---
---
SCM Surface Technologies
The integrated offer of dmc technologies for sanding, sergiani for pressing and superfici for finishing is further enhanced with new devices and models to satisfy all the requirements of process and end-product type and achieve sophisticated finishing solutions.
SANDING
New solutions that are easy to use and offer high productivity that focus on seeking exclusive finishes and an improved user experience in the production cycles:
new planetary unit for dmc eurosystem to perform every operation possible for calibrating, sanding, brushing and structuring;
new "eye-S" control panel for the dmc sd and dmc eurosystem to further enhance the performance of the machine and an even better look&feel; sought-after three-dimensional effects with the dmc system's exclusive gouging unit.
PRESSING
sergiani 3d form: the solution to enhancing three-dimensional panels, that satisfies any production requirement both with more delicate surface finishes (high gloss) and with more complex three-dimensional shapes, guaranteeing a product of incomparable quality.
FINISHING
superfici compact xl: the solution for high productivity capacity. It brings with it a significant saving in energy, a more efficient paint recovery system and an advanced air volume recirculation, as well as a completely new design that makes it unmistakeable.
uv led: UV LED polymerisation system with several UV monochromatic sources of different wavelengths, in order to achieve a controlled multi-chromatic emission in a wider spectrum compared to the pure uv led radiation. The result is chemical-physical performances fully comparable with standard uv polymerisation, while maintaining the typical advantages of the led.
valtorta f1: reliable, precise roller coaters, suitable for flat panel finishes, doors, parquet and furniture panels. They integrate perfectly into the high-speed lines for technology and specifications. Ideal for spreading paint, oils, base coats and finishes.
superfici excimatt: excimer technology capable of creating surprisingly smooth effects, with high levels of opacity but without compromising on the surface resistance. For the finishing on different finished products and materials.

---
TECHNOLOGIES FOR SOLID WOOD
accord 600 CNC machining centre for doors, windows, staircases and other solid wood elements: it offers 30% higher productivity compared to market standards and a considerable simplification and optimisation of warehouse management thanks to the Maestro power TMS software.
Balestrini idea CNC machining centre: for specific applications such as seats, tables, curved cabinet doors, furniture and ornaments. Compact size, heavy-duty structure and multi-purpose machining units ensure maximum precision and freedom when machining complex shapes.
Balestrini pico md CNC tenoner and mortiser: ideal for creating kitchen and bathroom cabinet doors, shutter cabinet doors, wooden door front pieces, sofa and wood elements and solid wood furnishing elements.

---
TECHNOLOGIES FOR DOORS AND WINDOWS
Three technologies, a single high-efficiency process with:
morbidelli m200: the CNC "All-In-One Technology" machining centre with 250 mm piece transit, 5-axis Prisma KT and FlexMatic table;
superset nt: the highly versatile throughfeed moulder, ideal for producing profiles for windows and doors as well as a vast variety of other products including staircases, wooden matchboards, frames and furniture in general;
superfici maestro: the arm movements of an artisan worker transformed into a seven-axis articulated robot. A new quality, efficient painting method for painting fixtures.

---
SYSTEMS FOR TIMBER CONSTRUCTION
You will have a chance to discover everything that's new in the production of X-lam/CLT panels, curved beams, and much more, together with the SCM team: from the new area x CNC machining centre to the "xl" solutions in the oikos and area ranges that overcome every limitation when machining large-sized elements.
Without forgetting the 3.0 version of the Maestro beam&wall software to optimise the work flow and provide greater production flexibility.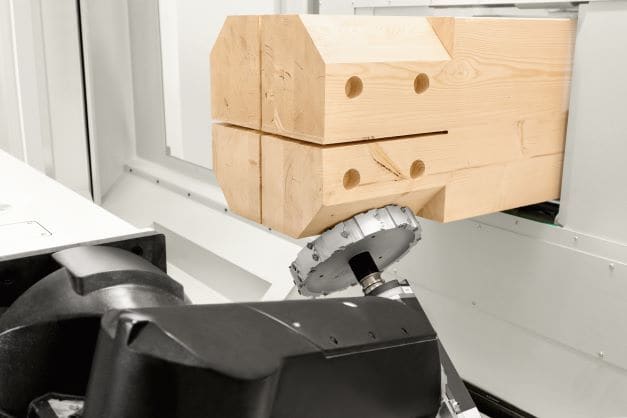 ---
PROFILING, SQUARING AND TENONING MACHINE
Taking a closer look at the celaschi innovations with the SCM team: from the latest for furniture, with the click Threespine® technology in collaboration with Välinge, to the special solutions for the production of state-of-the-art parquet and drawers.

---
JOINERY MACHINES
The vast offering of solutions for the artisan worker, designed to meet every production need, are on display. The best of the invincible, class, nova, me, startech, minimax and formula ranges.
Specifically highlighted are the new eye-S compact touch controls on edgebanders and the "Blade Off" innovative technological solution devised by SCM for circular saws and fitted with exclusive smart sensors to machine in complete safety.
---