Technologies for houses and construction elements

Modern wooden construction is largely based on engineered wood-based materials. Thanks to this, the structures currently being created often do not resemble traditional solutions, but they amaze with their scale and form.
One of the manufacturers of such constructions is the polnish company Jagram-Pro S.A.,, which specializes in the production of large-size curvilinear constructions. The technology used by Jagram-Pro consists in gluing bent elements made of thin wood lamellas (TCLwood618 ® - thin construction lamella for wooden constructions). Thanks to this, the company is able to produce wooden arches with a radius of R-15, which gives an opportunity to architectural projects that cannot be designed and implemented using standard technology.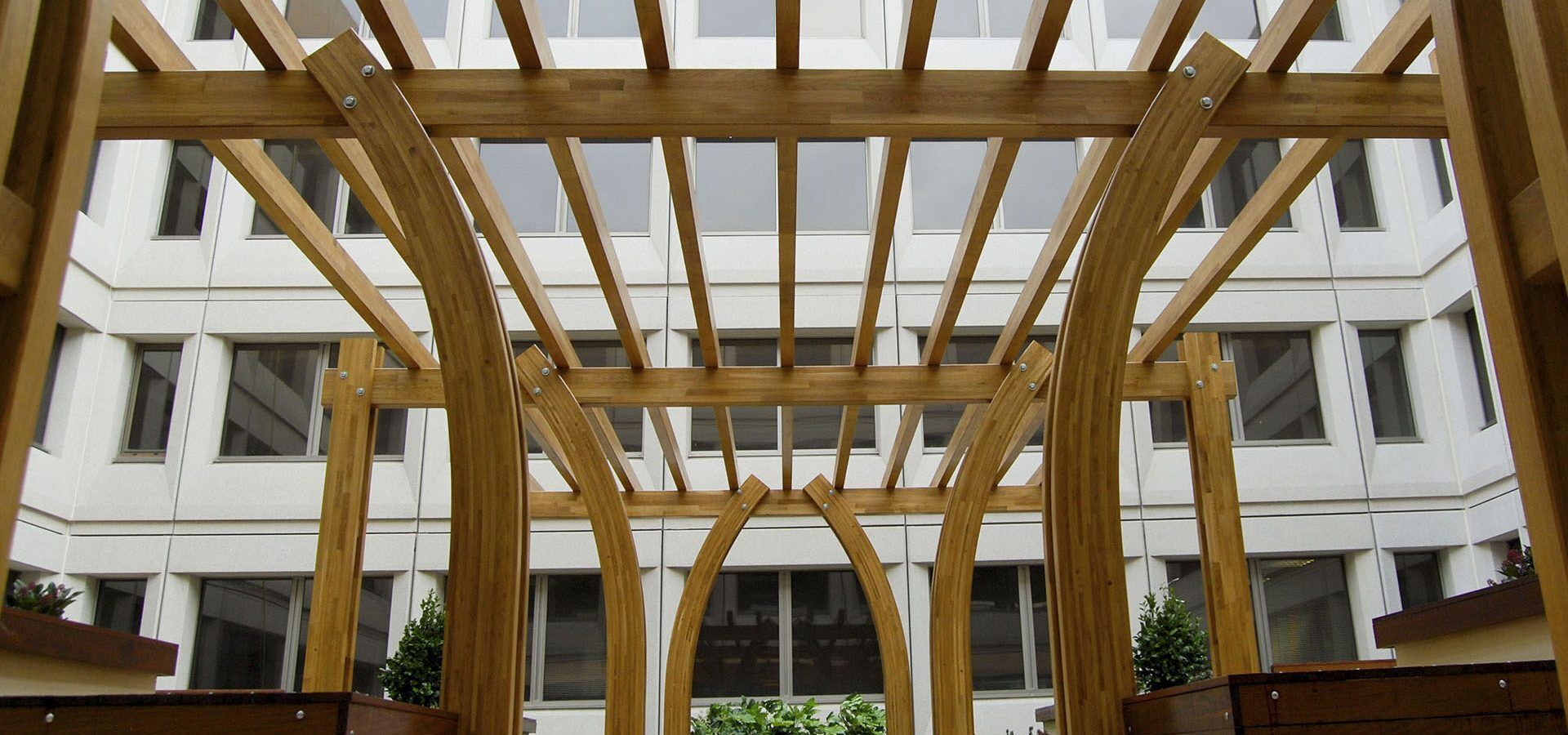 During the production of wooden construction elements used in modern construction, high accuracy is required, which is particularly difficult to maintain in case of large-size curvilinear elements. Modern CNC machines from the world's leading manufacturers are used for such tasks. Jagram-Pro opted for SCM products.
- We have two SCM CNC machining centres - Oikos and Area. Their selection was preceded by a thorough recognition of the available solutions and specific expectations, e.g. pneumatic locking of the work pieces was necessary for us, not so obvious in devices designed for large-size elements. Thanks to the investment in the SCM Area, we have achieved a very high accuracy and repeatability of the manufactured products. After two years of use, we can confirm that it was a good choice - says Waldemar Myśliński, vice-president of Jagram-Pro SA. Only robots can be an alternative to this solution. Unfortunately, in our case, they would have to have arms with a length of at least 3.5 m, which do not allow to maintain the required machining accuracy - he adds.
SCM AREA Machining Centre
The SCM AREA installed at Jagram-Pro is a 5-axis CNC machining centre with a mobile gantry and a modular structure that allows the machining of large elements of wooden structures, such as complete walls made of CLT panels, structural beams or curvilinear elements.
The scale of the capabilities of this device is reflected in the maximum dimensions of the work piece, which can be up to 16 m long, 3.2 m wide and 360 mm thick. SCM AREA is equipped with a 12-position tool magazine. The maximum diameter of the saw blade is 1020 mm.
The machining head unit with 5 interpolating axes has a power of 30 kW to meet all production requirements and works with the HSK85S chuck.
The worktable has been specifically designed to be customizable with a range of accessories for easy and secure positioning of work pieces.
Thanks to the use of guides with a low vertical profile and a reduced base surface, easy access to the work table was obtained, which is of great importance when processing large-size elements. In turn, the safety system used eliminates the risk of collision during machine operation.


Another model of the SCM range is the SCM AREA XL. In this machine, the gantry clearance has been changed, thanks to which it can be used to process elements with a thickness of 400 mm and a width of 3.6 m. There is a possibility of using one or two machining head units, each with a power of 63 kW and a torque of 200 Nm.
SCM OIKOS 6-axis Machining centre
The second Italian CNC machining centre used by Jagram-Pro is the 6-axis SCM OIKOS. This machine is designed as an optimal technological solution for machining structural beams and wooden elements of modular walls, which can be managed by one operator. 6-axis CNC means that in addition to machining with a 5-axis electrospindle, we also have the ability to move the work piece.
The compact structure, equipped with an innovative control system, allows unlimited processing of all sides of beams and wall modules with a width of 1250 mm, a height of 300 mm and a length of 13.5 meters. OIKOS allows you to perform all longitudinal and transverse cuts, including optimized operations on beams and the creation of modular elements from unfinished slabs and to perform designed routing, drilling, straight and angled, in every size and variant imaginable.
The machine is equipped with e.g. a laser probe to increase accuracy, e.g. in the case of dovetail joints, as well as a marker, mounted directly on the A axis, where a 13 kW electrospindle moves, thanks to which the transition from laser to marker and vice versa is very quick. The system offers automatic lubrication of the linear guides and highly accurate mechanics that require little operator maintenance.
OIKOS X and OIKOS XL
At the present, two new models are available in the SCM range: OIKOS X and OIKOS XL . The first of them can process elements with a cross-section of 1250x300 and a length of up to 19 m using a 13 kW electrospindle, optionally 24 kW. The XL version offers the ability to work with material up to 610 mm high and up to 19 m long with a 24 kW electrospindle as standard. Both machines can fit up to 18 tools and allow the installation of a saw blade with a diameter of 600 mm for Oikos X and 740 mm for Oikos XL.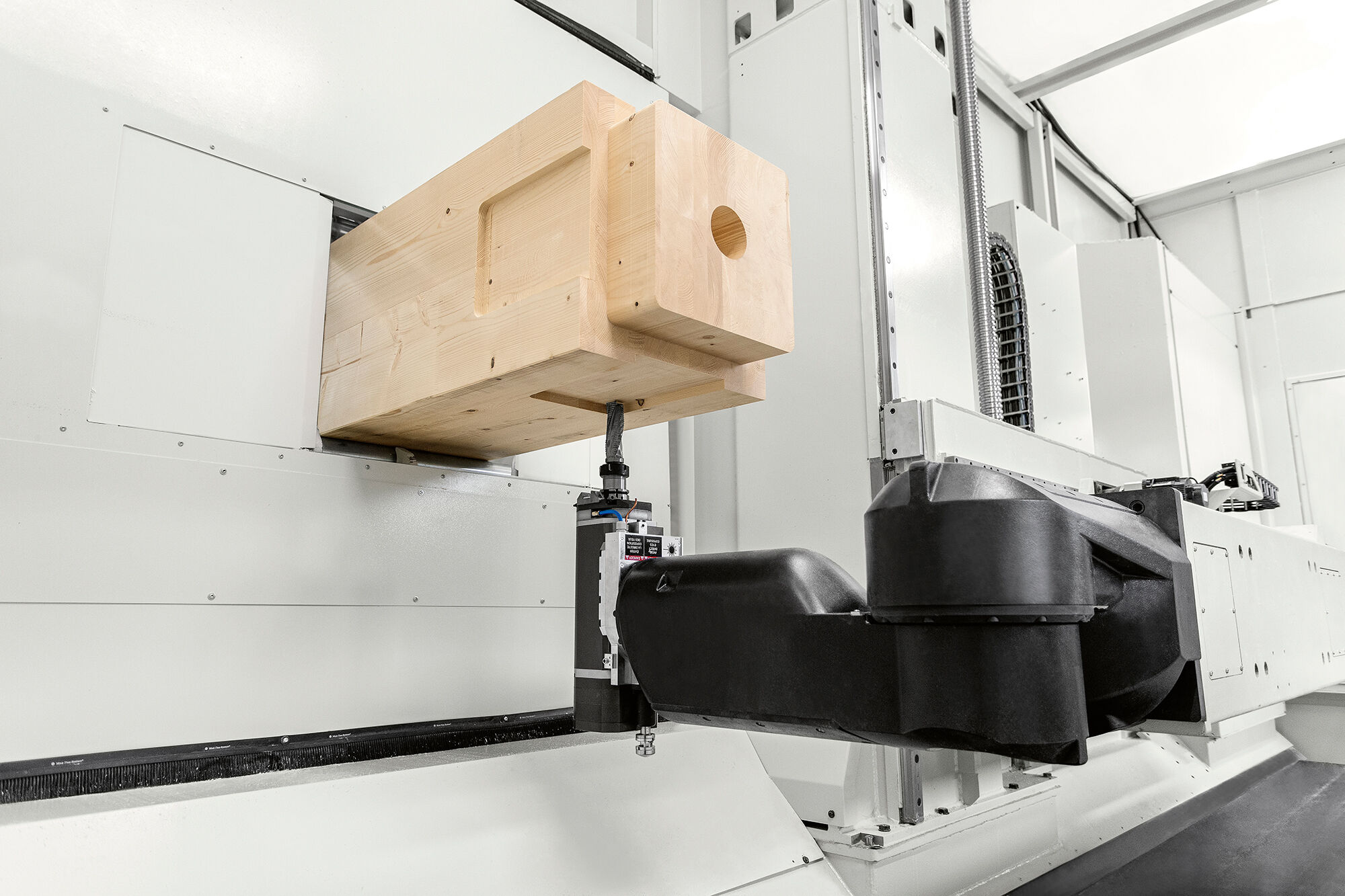 All CNC machining centres of AREA and OIKOS ranges are supplied with Maestro beam&wall software, which allows for automatic generation of machine programs in the BTL standard and import of files from other formats, which facilitates integration with the most common CAD systems in the timber construction sector. Thanks to the 3D simulation, you can precisely calculate the time and costs needed to perform the required machining of each element and verify possible collisions on all elements planned for execution, to great advantage of the production workflow optimization.

Jagram-Pro