Furniture Technologies

Specialising for over thirty years in the production of furniture components for kitchens, the Spanish company Logisiete has invested heavily in technology, digitalisation, and automation to provide top-quality products in just 24 hours. One of the most recent purchases was a flexible "stefani cell E" edgebanding cell.


"Every day we improve our production processes, so we become infallible in our end objective: offering our customers their dream kitchen"
This is how José Landaluce, CEO at Logisiete, describes this Spanish company's mission. It has been specialising in the production of kitchen furniture for over thirty years and exports to more than thirty countries. It has managed to evolve over time, starting as a commercial agent for kitchen furniture components, doors and accessories and then becoming a manufacturer capable of producing and offering complete, "turnkey", kitchen furnishing projects.
Its strong point along the way has been technological innovation both in machinery and logistics. For example, Logisiete has equipped itself with a fully automated warehouse covering 14 floors - the first of its kind in the whole of Spain - which, thanks to an exclusive management software, means it can monitor and collect as many as 150 thousand catalogue products in a matter of minutes.
A company with its eye firmly focused on the future, and forward-thinking in its choices that over the decades have accompanied its growth both in Spain and abroad.
Innovation and top-quality machining
"All our processes guarantee an excellent quality/price ratio and the chance to deliver our standard kitchens in 24 hours". continues Logisiete's CEO.
The company has recorded significant growth in turnover in recent years, both in Spain and the countries it exports to. A significant increase was recorded in the restaurant industry with the sale of highly professional kitchens, although the market in question is much vaster and the company collaborates both with artisan woodworking businesses as well as large industries.
In answer to the question of what makes their products unique, José Landaluce is in no doubt: "Logisiete has always opted for top quality materials and machining. We are at the forefront in the design of our kitchen furnishings and this is why we only deal with leading suppliers in the European market".
This Spanish company regards product finishing, quality and durability as key to offering what it has always set its sights on: top-quality furnishings.
Over time, market demand has also dramatically changed. "Nowadays, anyone looking to buy a kitchen, as with any piece of furniture, first and foremost looks for something exclusive and top-quality. Logisiete meets these needs by offering a sophisticated, design product on a par with luxury brands but with the additional advantage of offering it at a competitive price and one that is accessible to a wider target audience."
Optimising processes to be more competitive
Technological innovation and continuous improvement at product and process level: for Logisiete these are essential guidelines in developing new business projects and gaining the upper hand over competitors. "We are a highly technological company. At logistical level, we have a very powerful software, a robotic warehouse and all our processes slot perfectly into one another. This means that we can count on efficient production processes, capable of guaranteeing top-quality, design products that maintain their appearance and functional features for many years".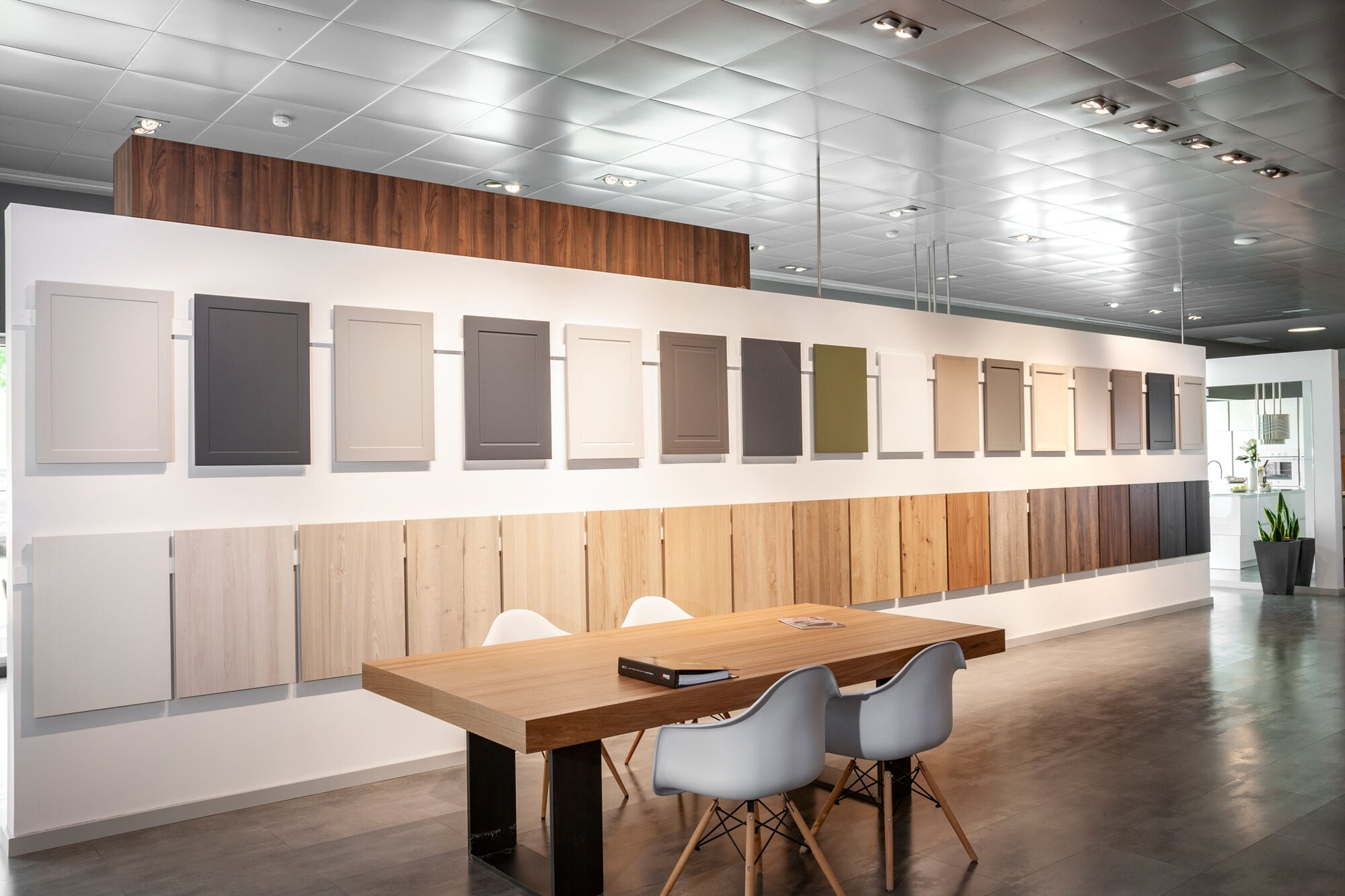 Edgebanding: the key to success
The edgebanding process plays a key role and Logisiete has very precise ideas and requirements in this area. "What we want most nowadays both from an edgebander and from other essential machinery for our production process is excellent flexibility - explains José Landaluce -. We aim to be increasingly more flexible when machining panels that vary greatly from one another, both in colour and size. And flexibility should not obstruct productivity because we also need to be very fast at the same time. Lastly, one other key requirement when purchasing our machinery is that the software integrates perfectly with our company management systems".
Logisiete chose SCM way back when it decided to open its first production plant and can now boast a wide range of the Italian Group's technologies.
The "stefani cell E" flexible industrial edgebanding cell is its latest purchase. "It slots in perfectly with our standards of quality, and we chose it because it offers an excellent quality/price ratio and means we can achieve excellent finishings".
Specialising in the "batch one" edgebanding of already squared panels, "stefani cell E" concentrates the advantages of customised production and large volumes into a compact design.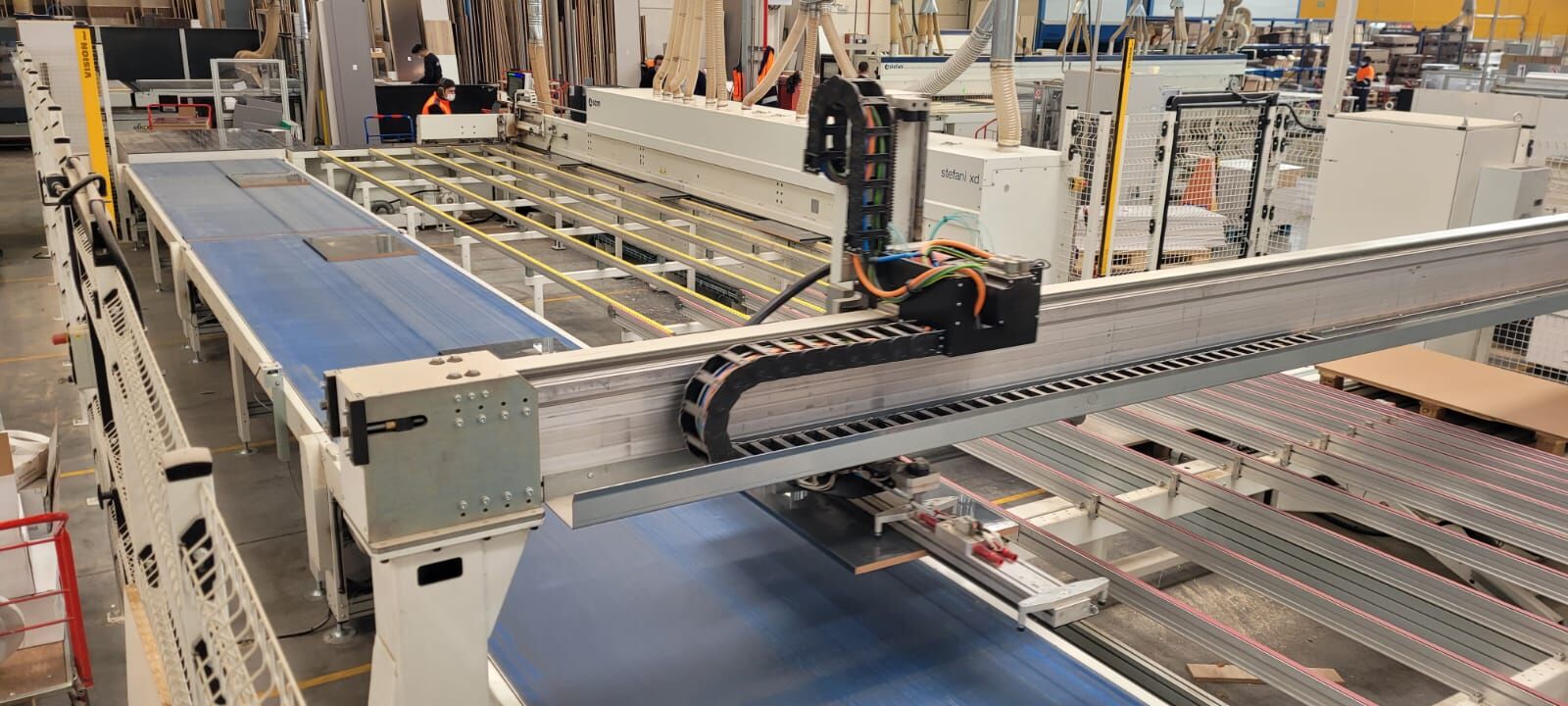 In line with future market scenarios, this cell allows you to choose and change type, colour, thickness of the edge, position and depth of the groove, and deal with the protective film and panel measurements without ever interrupting the production flow. In self-learning mode with the Bar Code/QR Code or by programming from the office, "stefani cell E" easily adapts to any kind of production you have in mind.
Thanks to the new "Pickback" gantry panel return system for the automatic return of the panels, the panel is automatically rotated to speed up the next re-introduction. It will also be possible to unload at the end of the cycle in masked time with the next loop load. Another advantage is the SIDE FINDER technology which, via a display in the operator's area, shows the operator how to position the panel so that it can be properly machined thus completely eliminating any risk of error.
"Our relationship with SCM is one of trust based on years of working together and the strong bond that has formed over time with our team - concludes the Spanish company's CEO -. SCM's technicians have always assisted us when commissioning the machines, we have always received an excellent response from the after-sales service and, more than anything, each time we have always been given great advice when choosing new technologies. We place our full trust in a company like SCM and will continue to do so in the future".
---
Logisiete