SCM is pleased to introduce a standard ERC series conveyor to be paired with all edgebander models. The edgebander, coupled with an ERC return conveyor, streamlines workflow and creates an efficient and cost-effective solution to handling panels without the need for an additional operator.
The result is labor savings, increased machine efficiency, reduced handling damage and less rejects. Independently adjustable speed control of the receiving table, transfer belts, and return conveyor allow the operator to customize settings for a perfectly balanced system regardless of the panel size.
Additional options include the panel kicker, panel rotator, panel exit assist and panel support rollers.
Additional Options:
PANEL KICKER
Angles narrower panels, ensuring transfer belts engage the workpiece with the ability to adjust the operating parameters based on process needs in real-time.
PANEL ROTATOR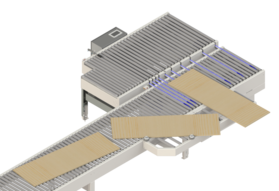 Allows conveyor to accommodate longer panel lengths by Rotating panels to the next edge for banding, eliminating the need for manually rotating large panels.
PANEL EXIT ASSIST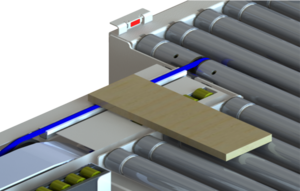 Eliminates risk of a deadzone developing at the outfeed of the edgebander for especially small panels. Provides an increased reliability and repeatability of transfer from the edgebander to conveyor by positively engaging panels with a driven belt
PANEL SUPPORT ROLLERS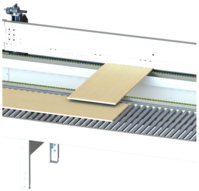 Ideal for long, thin panels that have a tendency to deflect The support rollers allow returning panels to pass under panels being banded, when included with the panel rotator.