Mi Casa NV trusts in Routech Oikos 6-Axis perfection
29 Mar 2017
Mi Casa NV visited the Routech facility in Sinalunga for the latest check-up on the 6-axis cnc Routech Oikos before installation. The beautiful New-England-Style Mi Casa Architecture will soon be hallmarked with the high-tech solution by Routech. Mi Casa NV, is a Belgian woodworking company that started up in 1993 building wooden houses. It has grown into a brand that stands for high quality houses with beautiful American New-England-style architecture and cosy interiors. Today a team of 50 people complete between 50 to 60 solid-wooden houses yearly in whatever style a customer wants. http://micasa.be/bouwsystemen/bouwproces.
The new 6-axis OIKOS CNC machining centre will replace an older CNC centre to improve the accuracy and the finishing quality of each single beam. It will also handle the very heavy and large complex beams without any manual intervention ensuring increased speed and greater precision.
With the new OIKOS machine Mi Casa will be able to dedicate more time and capacity to following up business opportunities on the Dutch and French markets.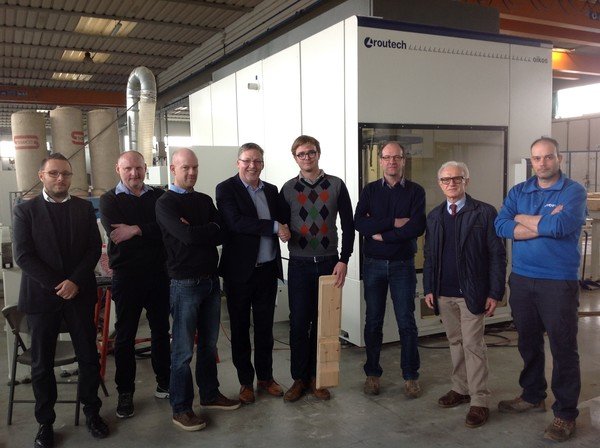 From left to right in front of the machine:
Tommaso Martini (BU Manager – Routech);
Kurd Claerhout (Machine operator - Mi Casa);
Erik Decoodt (Software and Training Manager - Rogiers);
Rony Kyndt (Market Product Area Manager - SCM GROUP);
Thibo Lidou (CEO Mi Casa NV);
Franky Verheye (Design and process engineer - Mi Casa);
Livio Tiezzi (Founder - Routech);
Alessandro Presenti (Technician - Routech)