Technologies for Special Materials

Maximum flexibility in dry deburring for metals
Thanks to the choice of a new deburring and satin finishing machine from DMC, part of SCM Group, Bergamo-based Ambrosini G.T. is improving the quality of its products by making full use of the performance, reliability and the various operating options.
Now approaching 60 years in business, Bergamo-based Ambrosini G.T. has always had considerable production and professional resources available to it, specifically so that it could offer many industrial sectors solutions in terms of machining rolled metal sections intended for all kinds of use, even the most structured and creative.
Experience and expertise that today mean that the company can supply a top quality service not just for large-scale production, but also for small batches or batch one, to customers from such diverse sectors as fashion, furniture, lighting, design, as well as the food and medical sectors, to name the most frequent customers.
Dario Ambrosini, co-owner with his brothers Massimo and Fabio, explains "Every day we try to combine a craftsman's skill with the use of advanced, innovative technologies, to provide customised and flexible solutions, turning every design idea into reality".
In this context, over the years the company has acquired significant knowledge of the machining that can be carried out on different types of materials.
Today, it can manage processes on noble metals such as steel, brass, copper, and also on aluminium (even pre-painted), iron and black iron, plus plastic materials (including PVC, Lexan, Forex, Plexiglas), galvanised sheet metal and Alucobond. An operating flexibility based on constant updating of the company's machines.
Amongst the latest investments is a new Metal System deburring and satin finishing machine, purchased from DMC, a well-known brand operating in the development of high-tech solutions for finishing surfaces, which since 1987 has been part of SCM Group SPA.

"User-friendly and easy to programme, the new deburring machine also allows maximum flexibility when setting parameters and for process control." -
Dario Ambrosini, Owner
DMC System - modular, productive and reliable
A heavy-duty solution, for dry machining, the DMC Metal System deburring and satin finishing machine purchased by Ambrosini G.T. is designed for companies who have to be able to combine productivity, reliability and flexible use. In fact, in a single pass it is possible: to eliminate burrs from cutting, effectively remove cutting edges, clean and smooth the edges of holes, even small ones and remove the oxides created by cutting, both on the outer perimeter of the workpiece and inside holes.
Available with load-bearing structures capable of housing up to 10 machining units, to meet any deburring and satin finishing requirements, the machine boasts a modular structure and new-concept machining units (each incorporating its own electronic and pneumatic components), so that its makeup can always be kept in line with changing production demands. In fact, substituting the individual units (or just swapping around their internal order) is fast and inexpensive.
Ambrosini points out that "The machine has been set up according to precise specifications, based on our operators' experience. For example, the need for a worktable with improved workpiece hold-down, or the addition of auxiliary pressing rollers. These requirements were met and supported by DMC, and make it easier for us to manage even small workpieces, which are very common in our orders".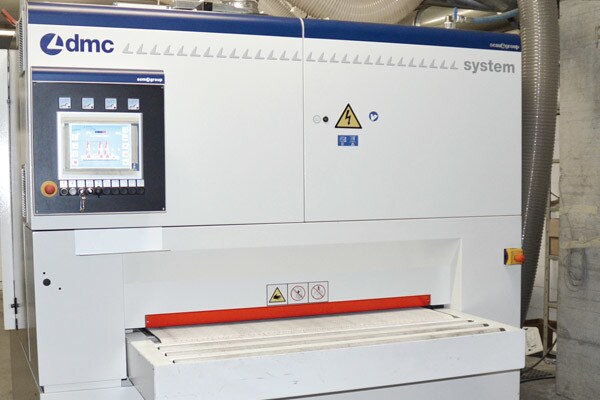 High performance, customizable machining units
For the new Metal System, DMC makes available many types of contact rollers, depending on the specific deburring or satin finishing needs, with 250, 320 and 400 mm diameters. The rollers are made of oil- andheat-resistant rubber, with hardness of 20 sh to 90 sh. They have a grooved helical surface for improved cooling and effective expelling of machining dusts if necessary. The unit height adjustment range allows the use of both traditional abrasive belts and belts made of "surface conditioning" abrasive cloth.
In contrast, the innovative DP planetary unit was developed to meet the more complex requirements of deburring and rounding of edges. All motion transmission in the unit occurs using gears in an oil bath, not using belts. Therefore, this is a high-tech unit, able to machine at high torques, even for 3 work shifts. What makes this unit unique and particularly effective is the absolute multi-directional nature of its action: the unit's three movements (brush rotation,head counter-rotation and transversal oscillation) are managed by independent motors, all inverter-controlled.
The most suitable speed combination can be selected, depending on the specific type of operation to be carried out.
"Fitted with the appropriate types of abrasive brushes to suit our needs - adds Ambrosini – even the translating unit with vertical brushes guarantees excellent results in our machining: from removing cutting edges and rounding edges to removing burrs from holes, and any oxides from thermally cut edges".
"User-friendly and easy to programme – concludes Ambrosini – the new deburring machine also allows maximum flexibility when setting parameters and for process control. An added value very much appreciated by our operators, who can use their experience to maximise machining output based on the product. In other words, they can give the workpiece or workpieces machined the precise finish requested by our customer".
So, it is another operating opportunity for the Bergamo-based company. For them, the new DMC deburring and satin finishing machine is a valid tool in addition to those already available for giving machined workpieces the finish quality needed for the specific application. And this can be done while counting on maximum reliability and the highest level of process flexibility.
The company at a glance
From cutting (laser and with shears) to bending, from punching to welding, from drilling to deburring and satin finishing. These are some of the steps involved in machining rolled metal sections that Bergamo's Ambrosini G.T. can carry out to meet the most diverse requirements.
With an annual turnover of around € 6 million, the distinctive feature of the company is first and foremost its ability to machine all types of noble metals with a variety of finishes, as well as plastic materials, together with modern techniques both for design and machining.
This flexibility and versatility means that the company can offer expertise and support, making it the go-to firm in the sector. It has around fifty workers, required to meet the needs of the most diverse application sectors in a structure that is organised and divided into operating departments which, as well as offices (admin, technical, sales) include: the cutting and bending workshop, the laser/ punching/milling department, the welding and finishing department, the warehouse.
By Gianandrea Mazzola
for Lamiera
Ambrosini (Italy)