Technologies for Special Materials

More competitive with dry deburring and satin finishing
The integration of a new deburring and satin finishing machine made by DMC, part of the SCM Group, means that Modena-based company Top Laser can supply "ready to use" stainless steel components without any need for additional operations. This is an added value which for the end customer results in process optimisation, both during assembly and, if necessary, delivery.
Young and dynamic, Top Laser of Marano sul Panaro (Modena province) is still to celebrate two years in business, but boasts in-depth experience in the sector gained by its 4 founding partners: Matteo Manni, Fausto Galli, Elia Tommaso and Andrea Trenti. With great entrepreneurial far-sightedness, in June 2014 they decided to take over the company from the previous owner and to embark on their own path to growth.
"It wasn't easy and instant – explains Matteo Manni – but we were able to provide continuity for our customers. For them, in terms of operations, there was no noticeable change".
Specialising in the design and construction of machines, conveyor belts, sealable tanks, plus various products made of stainless steel, galvanised iron and aluminium, the company can count on a large and diverse portfolio of customers, which it serves by emphasising its rapid response and quick supply times.

"After assessing the solutions available on the market, we identified DMC as an expert, knowledgeable partner, which listened to our requirements and came back to us with a real solution." -

Matteo Manni, F
ounding partner
This is the strong point, based on shared expertise and interchangeability in their roles. "We have three CAD 3D design stations – says Manni – which three of us can use independently to develop orders according to requirements.
We use the same method to manage the machines in the workshop, where we have a laser cutting machine, a shearing machine, three bending machines, of which one is a 230-ton model recently purchased, stations for wire and TIG welding, both stainless steel and iron, as well as equipment for various machining operations".
They have added to their machines with a new deburring and satin finishing machine Metal System 1350 from DMC, a well-known brand operating in the development of high-tech solutions for finishing surfaces, which since 1987 has been part of Scm Group SPA.

Ease of use and efficiency in a single pass
Designed based on more than fifty years of experience manufacturingmachines with a flexible abrasive component, the DMC Metal System 1350 guarantees maximum ease of use and powerful, reliable mechanical functions for machining metal.
In fact, in a single pass in the machine it is possible to eliminate burrs from cutting, effectively remove cutting edges, clean and smooth the edges of holes, even small ones and remove the oxides created by cutting, both on the outer perimeter of the workpiece and inside holes.
"What convinced us to buy the machine – continues Manni – was the precise aim of expanding not just our collection of machines, but also developing a new idea in terms of supply.
All benefiting our customers thanks to process optimisation. The stainless steel products that we make no longer need any final finishing and don't have a protective film. This makes assembly and, if necessary, delivery faster". We overcame the challenge by obtaining a first important order to supply stainless steel components, for which further deburring operations were no longer necessary.
"After assessing the solutions available on the market – continues Manni – we identified DMC as an expert, knowledgeable partner, which listened to our requirements and came back to us with a real solution. A direct approach, showing us all of the distinctive features and strong points of the machine and the operating opportunities that it could offer for our company".
This careful analysis also involved the DMC Hi-Tech laboratory in Thiene (Vicenza province), which was sent several samples prepared by Top Laser. The machining did not disappoint.
"Actually – explains Manni – whilst in the beginning we were only interested in purchasing the deburring machine, having weighed up the options with the DMC technicians we decided to opt for a more complete machine, that was also able to produce a satin finish and Scotch Brite finish".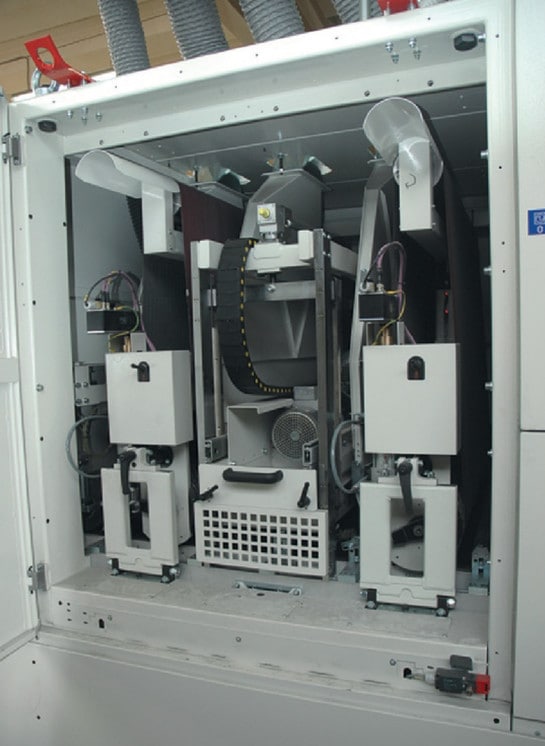 Detail of machining units selected by Top Laser for the DMC Metal System 1350 deburring and satin finishing machine
The added value of modularity
The machine supplied to Top Laser is available in various configurations, with load-bearing structures capable of housing up to 10 machining units, to meet any deburring and satin finishing requirements.
The machine boasts a modular structure and new-concept machining units, so that its makeup can always be kept in line with changing production demands. In fact, substituting the individual units (or just swapping around their internal order) is fast and inexpensive.
There are many types of contact rollers, depending on the specific deburring or satin finishing needs, with 250, 320 and 400 mm diameters. They are coated with oil- and heat-resistant rubber, with hardness of 20 sh to 90 sh. Use can be made of either traditional abrasive belts, or belts made of "surface conditioning" abrasive cloth.
Electronic adjustment of the position of the above-mentioned machining units is performed using linear stepping motors, managed by the machine PLC via a Can Bus connection: this is the best solution for fast, precise positioning of the machining units, with lasting precision. The position of the rollers can be saved in the individual machining programs, so that it is possible to retrieve the one best suited to every type of machining, depending on the thickness of the abrasive belts used and the desired machining pressure.
The simplicity and speed of abrasive disk replacement makes machine setup fast and easy for any type of application and provides locking with maximum safety. The motor power drive system is effective and quiet, even in heavy duty working conditions, thanks to the Poly-V multi-rib belts of the drive system and use of an automatic tensioning device.
The fixed work bench is also greatly appreciated by the Modena-based company: "A feature that isn't common on these machines – says Manni – which will let us make our process even more efficient, because in future we can fit a workpiece return conveyor belt. The idea is to connect the workpiece infeed and outfeed, to make process management even faster with a single operator".
Maximum management simplicity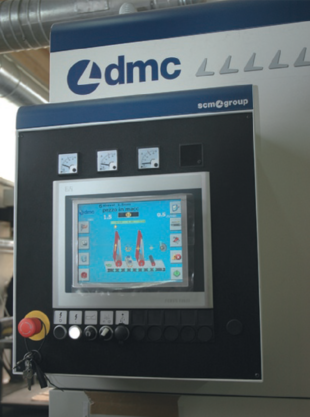 Fitted as standard on all DMC Metal System deburring machines is the "Hydra V-Pad" control, with a touch screen that allows users to set all machining parameters, and to carry out a real-time check that the machine is operating correctly.
"Simple management – adds Manni – allows the operator to check all operating parameters and edit them in real time depending on the workpieces processed. At the same time, we can save the settings so that they can be retrieved for repeat batches, ensuring top quality workpieces".
In this case, the operator's experience is crucial, with sensitivity increasing over time, as certain requirements are met.
"Thanks to this new technological addition – concludes Manni – and to the new operating possibilities, we can provide our customers with a higher quality product. They receive machined workpieces that are ready to use, without needing any additional operations".
Young and dynamic, Top Laser is growing in every sense, even in terms of personnel (with recent hiring), and technological equipment and the acquisition of new customers.
This trend is driven by the determination of the four owners, together with the knowledge that they can stand out by providing a service and supplying products that are designed and made swiftly and promptly.
The importance of a technological research and demonstration centre
Top Laser's purchase of the new DMC deburring and satin finishing machine was the result of an informed decision, after assessing the solutions available on the market. Tipping the balance in favour of this new investment was not just suitable technical support, but also the opportunity to see up close the operating possibilities, thanks to the availability of an advanced technological research centre, the DMC Hi-Tech laboratory at the centre in Thiene (Vicenza province).
The operating unit is managed by highly specialised personnel, and is equipped with sophisticated instruments for analysing the materials to be processed and the various types of abrasive components. Thanks to the many demonstration machines, the centre can perform any deburring and satin finishing test, quickly providing detailed information about the best way to handle new machining issues, and to obtain the new finishes requested by the market.
By Gianandrea Mazzola
for Lamiera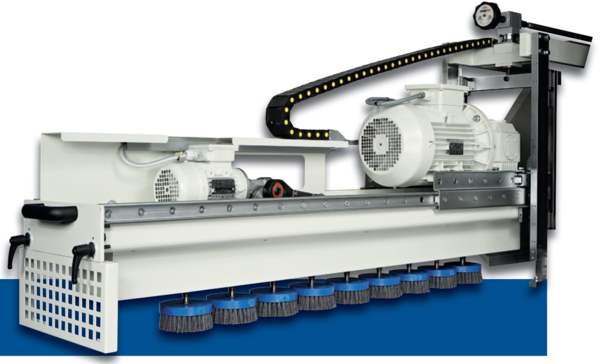 Fitted with the appropriate types of abrasive brushes, the translating unit guarantees excellent results in a wide range of operations
Top Laser (Italy)


Specialized in the design and construction of machines, conveyor belts, sealable tanks