26-28.01.2017
The AuthoR-Evolution Open House was held from the 26th to 28th of January 2017 in Rimini at the Scm Group showroom.
Three days together with our specialists to demonstrate the latest Scm Group technological innovations.
Our long history also enables us to introduce solutions that are based on deep in-market knowledge.
This is how Scm Group succeeded in developing The answer to industrial needs in the field of machining centres.
AUTHOR-EVOLUTION is the result of such needs – to have available all the functions and performance levels required for accomplishing your work,
in terms of efficiency, quality and your business progress.
Come and discover this revolution made in Scm Group, along with all the other innovations introduced this year, including software, CNC machines for solidwood,
throughfeed moulders, double-end tenoners, edge banders, sawing machines, automation systems and sanders.
Programme

The 3-day programme is packed with technical demonstrations, plant tours and lunches, running from 9am to 5pm on Thursday and Friday, and 9am to 1pm on Saturday.
Scm Group provides shuttle buses for transfers in the morning from the Hotels to the Scm Group Showroom in Via Emilia, 77 Rimini, and in the afternoon back to the Hotels.
Customers will find all information about routes and timetables both at the Open House and Hotels receptions.
Guided tours to Villa Verucchio plants
For those who are interested in visiting the Villa Verucchio plants, Scm Group provides shuttles both in the morning and afternoon to the Spare parts, Components, sanders and beam saws production plants.
Customers can book the guided tour and ask for more information directly at the Open House reception on the day of arrival or by email at authorevolution@scmgroup.com
AuthoR-Evolution - Technological focus
Launching the new Morbidelli Author M100 and M200 models.
The revolution that is changing the world of machining centres.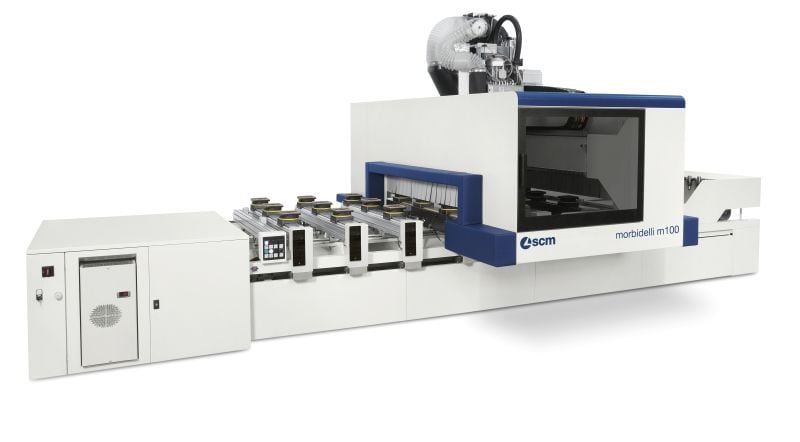 morbidelli m100/200
CNC Machining Centres for routing and drilling
This highly modular machining centre provides answers to all the problems associated with woodworking. Just a few clicks to design and manufacture pieces of any shape, the machine is run by the Suite Maestro which has specific modules for every...
Participants will also be able to enjoy live demonstrations of all solutions present at the Rimini showroom during the event, including beam saws, handling and automation, edge banders, presses and assembly solutions, as well as belt sanders and a latest-generation software suite.